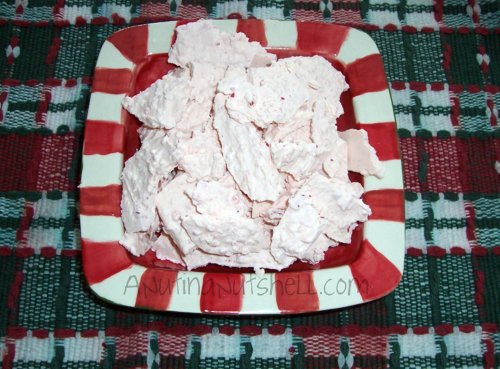 This is my very favorite thing to make during holiday time and usually the first thing I do make! It gets eaten so quickly by family and friends that I usually make four batches by the time Christmas is over.
So here's how I make it!
You will need:
one package of small or large candy canes, both work fine.
one package almond bark or two bags white chocolate chips
1/2 tsp. peppermint oil
2-3 drops red food coloring
Unwrap the candy canes, put them into a heavy duty zippered storage bag and crush them into small pieces. I usually use a rubber mallet to crush the candy but you can use a rolling pin or anything else that does the job.
It will look something like this when it's all crushed.
Put the almond bark or white chocolate chips in a glass bowl and then melt in the microwave. Start out with 1 minute at high temperature and then check and stir.
Continue checking and stirring at 15 second intervals until you have a nice smooth mixture. (Time will depend on your microwave's power. It takes no more than 1 1/2 minutes in mine.)
Add 1/2 tsp peppermint oil and 2-3 drops of red food coloring. Mix well. You'll have a nice peppermint pink color now!
Add your crushed candy canes to the mixture.
Mix candy canes in well. It will look something like this at that point. (If you'd like, you can reserve a little bit to sprinkle over the top of the bark.)
With the help of a spatula, pour the mixture out onto a piece of waxed paper or parchment paper on your counter and spread to desired thickness.
Mixture will harden into a bark within 15 minutes or so. If pressed for time, it can be frozen for 3 minutes to quickly harden it. Break the bark into irregular pieces of various sizes and enjoy! It's absolutely delicious!