I have to admit that cooking is not that much fun for me. My favorite recipes are the ones that get me in and out of the kitchen the fastest, and they have to be easy!
So if anyone offers me a shortcut…I'm gonna take it.
Thank you, Philadelphia Cooking Creme.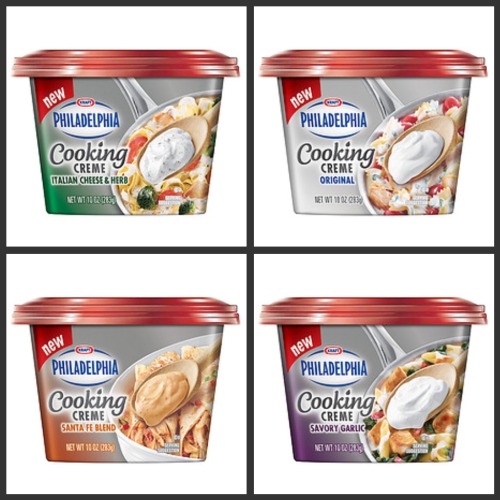 Philadelphia Cooking Creme is a reduced fat, creamy, and spoonable sauce in four delicious flavors: Italian Cheese & Herb, Savory Garlic, Santa Fe Blend, and Original.
When I first heard about it, I really wasn't sure that I'd like it. Honestly, it sounded kinda gross. But remember how I said I liked easy? Easy trumps everything, so I had to give it a go.
When the cooking creme flavors arrived, I took the Italian Cheese & Herb flavor and made a vegetarian version of a recipe printed right on the package.
Veggie Primavera Pasta
2 cups frozen or fresh stir-fry vegetables (I used fresh carrots, celery, snow peas, and broccoli for mine)
1 tub (10 oz) PHILADELPHIA Italian Cheese & Herb Cooking Creme
2 cups hot cooked fettuccine noodles
Stir fry veggies until cooked and heated through. Add cooking creme; cook and stir 3 minutes. Stir in hot pasta.
Serve and enjoy!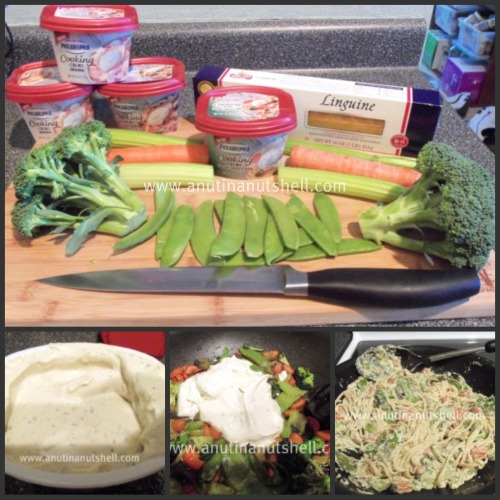 The Results: Go figure. My super picky self liked it, really liked it! It gave the pasta a wonderful creaminess and added just the right amount of herb and spice flavor to the recipe. It was an absolute breeze to use because it blended so smoothly and easily.
I think the cooking creme is extremely versatile, and it's such a quick and easy way to add new flavor to old recipes. I can think of at least five of my signature casseroles which would be delicious if I added cooking creme. Next up – homemade macaroni and cheese with the Santa Fe Blend. YUM!
Buy It! Look for Philadelphia Cooking Creme in the refrigerated section of grocery stores now.

Win It! Two (2) lucky winners will each receive a free product coupon for Philadelphia Cooking Creme and a booklet of recipe ideas!
Giveaway Rules
Mandatory Entry: Tell me what dish you think you'd like to spice up with Philadelphia Cooking Creme and which flavor you'll use to do it!
Optional Extra Entries (After you've done the mandatory entry, you may do as many of these extra entries as you would like, but leave a separate comment for each entry.)
Like Philadelphia Cream Cheese on facebook – 1 entry (leave username)
Follow @LoveMyPhilly on twitter – 1 entry (leave username)
Follow me publicly on google friend connect, subscribe by email (leave email used – must activate) – 1 entry each
Like A Nut in a Nutshell on facebook – 1 entry (leave username)
Follow me on twitter @blueviolet and tweet the giveaway- may be done once daily – 1 entry (leave direct url to tweet) copy and paste the following:

Enter at A Nut in a Nutshell for the chance to #win the new Philadelphia Cooking Creme! #giveaway http://bit.ly/g2IhDk

Enter any of my active giveaways (listed in right sidebar) – 1 entry each
Digg this post, stumble this post, add this to another site's giveaway linky – 1 entry each (leave links so I can verify)
Add my blog url to your text blog roll, add my button to your blog, blog about the giveaway – 2 entries each (leave link)
You have until 11:59 pm EST on March 18, 2011 to enter. One lucky winner will be randomly selected. I will email the winner and they will have 48 hours to respond to the notification email, or a new winner will be chosen. Entering this giveaway means you are in agreement with this blog's Terms of Use policy. Open to US residents. Good luck!

WINNERS: #232 Natalie A, #18 Sue