The world of men is a scary place, ya'll!
Obviously I know that men grow facial hair, but dang, I had no idea of the upkeep involved and the tools required to keep those sprouts under control. Sheesh!
So all men need to check out this Philips SensoTouch 3D Electric Razor. Badly.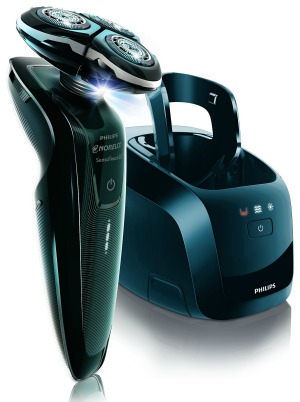 When this arrived the other day for me to review, firstly, I had to find a man, so I recruited my friend who volunteered her husband's face. Bless his heart.
With the man problem taken care of, I set about learning how to use the razor. It's a cordless razor, so I plugged it into the dock (which has suction cups), and it charged in about an hour.
Just from moving the shaver in and out of the charging dock, I could see how comfortable the grip was.
The shaver has an UltraTrack head with 3 specialized tracks: slots for normal hair, channels for long or flat laying hair, and holes for the shortest stubble on your face.
I finally handed it over to the dude, and he got busy with it.
The Gyroflex 3D contour-following heads are made to glide easily over a man's face and neck, and since I was all up in his business watching, I could clearly see that it gave him a remarkably close shave. And he told me there was no irritation, and no catching or pulling.
Once he finished shaving, he pushed a button which popped out the precision trimmer, and then he used that to trim and line his sideburns.
You can also use this as a wet razor with shaving cream!
When shaving for the day was finished, I sent my clean-shaven guinea pig home, and I set out to use the Jet Clean feature of the razor to clean, lubricate, and re-charge it.
The razor comes with a liquid cleaner, so just fill the reservoir, and replace it in the base of the unit.
Place the razor into the stand, hit the power button, and the unit takes over. The razor is lowered into the cleaning solution and the cleaning cycle lasts about 4-6 minutes.
When it's finished, the razor is lifted back up and recharging begins. It can be left in either of the docks between uses, but when it's fully charged, you need not keep it plugged in.
And by the way, the shaving unit does its best to help you take care of it by indicating battery level, and whether the shaving heads are blocked, need to be cleaned, or need to be replaced. There's also a travel lock.
This is the ultimate in men's electric razors. It's powerful, incredibly versatile, and it has the ability to clean itself. It gets a huge thumbs up a recommendation from me!
I received a media sample in order to facilitate the review. The opinions expressed in the post belong completely to me.