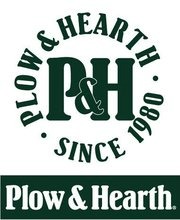 I've wanted some outdoor path lighting for such a long time, and I finally got some! I ordered these solar path lights from Plow & Hearth for my front walkway, and I couldn't love them more! Gorgeous, huh?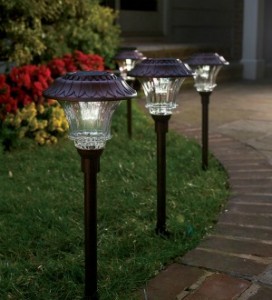 They come in a set of 4 and stand about 23″ high. I chose them in that beautiful bronze color, but they're also available in zinc.
I was happy to see when they arrived that they were going to be super easy to put together and install. The die cast aluminum stakes were heavy duty, and since I needed to pound them into the ground, I appreciated their solid construction.
The bottom of each light has an on/off switch, which I think is a really nice feature to have.
Each head comes with 6 super bright white LED lights, which when fully charged will light for up to 10 hours. With the powder coated steel casing in that rich bronze color and these beautiful glass lamps, the set adds such an air of elegance to my outdoor landscaping.
Since I often get deliveries after dark, I really appreciate that it's a much safer trip for anyone coming up my front sidewalk.
I love that they illuminate the walkway, but do so without an obnoxious brightness. They serve as a beautiful accent to the exterior of my home. I absolutely love them!
Buy It! You can purchase this high quality set of Solar Path Lights for $99.95 at Plow & Hearth. They'd make a lovely addition to anyone's home.
GIVEAWAY!
One lucky winner will receive a $50 Plow & Hearth Gift Certificate! (After you enter here, head over to Thanks, Mail Carrier. She's giving away a $50 Wind & Weather Gift Certificate!)
(Rafflecopter entry form below is in javascript so it may take a few seconds to load.)
I received the above mentioned item for review, and the opinions expressed in this post are my own honest opinions of the product.