I drive a car that instantly identifies me as a senior citizen, but I'm not a senior citizen.

My teeth need to be straightened again.

I stink at multi-tasking.

I'm too shy.

I have a broken blood vessel in my cheek.

My glass is almost always half-empty.
Ay carumba.
Stop it. Stop it. Stop it.
I tend to pick myself apart from top to bottom, side to side and crossways, so it's time to remind myself to stop that.
Accept the gifts that nature gives you.
So says Mr. Peanut at PowerofthePeanut.com.
Preach it!
I can't believe I'm actually listening to a talking peanut with a monocle, but I am. The nut makes sense. I guess all that protein and those nutrients are fueling his brain power. 😉
If I really look at what I've been given, I see that what I have is pretty unique, pretty amazing and pretty worth having.
My car is fully paid for, runs, and was gifted to me from my dad when he died, so it makes me feel close to him.

My teeth are strong and healthy.

I give complete focus to one project at a time.

I love to relax, have fun and get silly with close friends.

I only have one broken blood vessel in my cheek.

My half-empty glass is full of diet soda and there's more where that came from.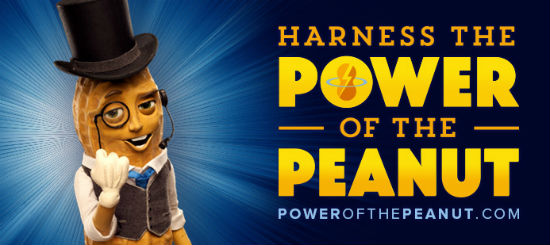 You know what? I'm going to harness the power of the peanut a lot more often, because just that little bit of twisting things in a positive way made my spirit soar.
Are you good at accepting the gifts that nature gives you?
I was selected for this opportunity as a member of Clever Girls Collective and the content and opinions expressed here are all my own.