Puzzles, puzzles, puzzles! I love doing puzzles!
I really like having a jigsaw puzzle sitting out on a table for everyone in the family to work on. Whenever someone gets the urge, they can just plop down and start fitting puzzle pieces together.
Right now I'm working on one with 1000 pieces called Courting Peacocks which I found at Purrfect Puzzles from the Celtic collection. Isn't it the coolest design?
I am nowhere near done, but the border is finished! Now I'm starting to collect pieces that look alike, like those "eyes" in the feathers. The puzzle is challenging which makes it last a lot longer. I don't like solving them toooooo quickly.
What makes Purrfect Puzzles different from other puzzle companies?
The artwork is incredible!!! There are four puzzle collections to choose from and each one features outstanding hand-picked artwork with magnificent details.
The pieces are thick and sturdy, and I also noticed that they are all cut cleanly. None of them are stuck together, which is a sign of a very well made puzzle.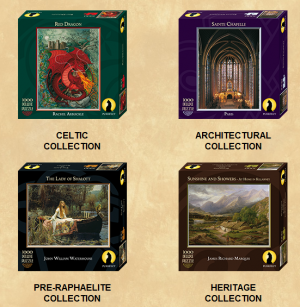 Buy It! Priced at 17.99 (EUR) which translates to about $24 (US), it's an excellent value for a very high quality, unique puzzle. You'll find this and many other premium quality 1000 piece puzzles at Purrfect Puzzles.
Win It! One lucky reader will win a puzzle of their choice from Purrfect Puzzles.
Giveaway Rules
Required Entry: Visit Purrfect Puzzles and leave a comment with the puzzle you'd like to receive if you're the winner. (Choose carefully. You're picking out your prize.)

Optional Extra Entries (After you've done the required entry, you may do as many of these extra entries as you would like, but leave a separate comment for each entry.)
Follow me publicly on google friend connect – 1 entry
Subscribe by email (must activate) – 1 entry – (leave comment with email address)
Follow A Nut in a Nutshell on networked blogs – 1 entry (leave username)
"Like" A Nut in a Nutshell on facebook – 1 entry (leave username)
Click to donate water (widget on sidebar) – 1 entry (leave email address used)
Follow me on twitter @blueviolet – 1 entry (leave username)
Tweet the giveaway- may be done once daily – 1 entry (leave direct url to tweet) copy and paste the following: #Win a jigsaw puzzle from Purrfect Puzzles w/ uncommon, dynamic artwork! Enter at A Nut in a Nutshell #giveaway http://bit.ly/gXlp7a

Enter any of my active giveaways (listed in right sidebar) – 1 entry each
Add my blog url to your text blog roll – 2 entries (leave link and 2 comments)
Add my button to your blog – 2 entries (leave link and 2 comments)
Add my Holiday Picks button to your homepage – 2 entries (leave link and 2 comments)
Blog about the giveaway – 3 entries (leave link and 3 comments)
You have until 11:59 pm EST on January 5, 2010 to enter. One lucky winner will be randomly selected. I will email the winner and they will have 48 hours to respond to the notification email, or a new winner will be chosen. Entering this giveaway means you are in agreement with this blog's Terms of Use policy. Open to US residents. Good luck!
I received a puzzle in order to write the review and the same will be provided for a giveaway winner. No other compensation has been received. This post contains my own honest and uninfluenced opinions.