I despise having to scrub to clean anything, not so much because it's hard work but because I have carpal tunnel syndrome, and scrubbing makes it hurt so much more.
So when I was sent a Quickie Household Power Scrubber to review, I was hoping it would be the end of scrubbing for me. So I let my fiberglass tub and shower go without its usual weekly scrub-down cleaning for half of March in order to build up all types of yuckiness for the Quickie to work on.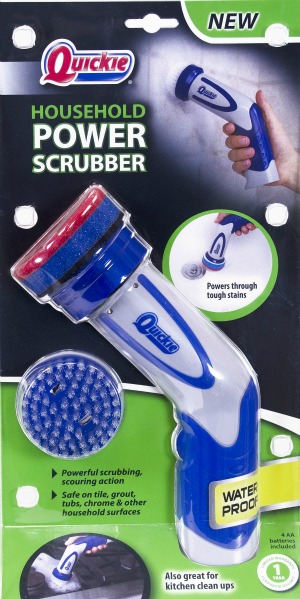 Let me just say… for some reason, the build-up from water and soap scum in this house is more disgusting than anywhere I've ever lived, so letting it sit that long about killed me.
Anyhow, the Quickie is a handheld scrubber powered by four AA batteries (which are included) and is safe to use on tile, grout, tubs and other household surfaces.
It comes with a scouring pad and a brush attachment, and it's completely waterproof to allow for use with water or cleaning solutions.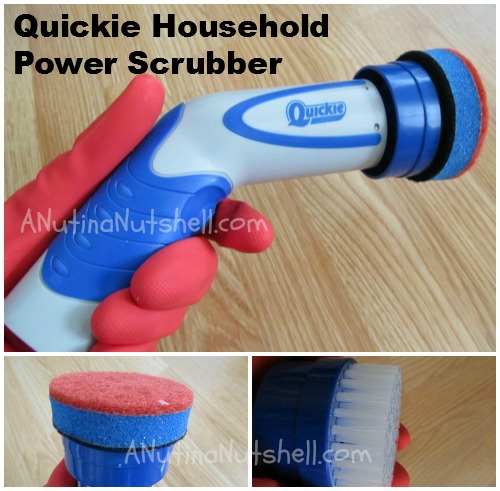 I donned myself with gloves and let the Quickie get busy with its high torque but controlled action. I was afraid it would spin super fast and fling cleaning solution and water everywhere, but it didn't.
It's more of a concentrated clean, and the motor maintained the same amount of strength the entire time. There was no stuttering or halting whatsoever, even if I pressed down a bit onto the tub surface.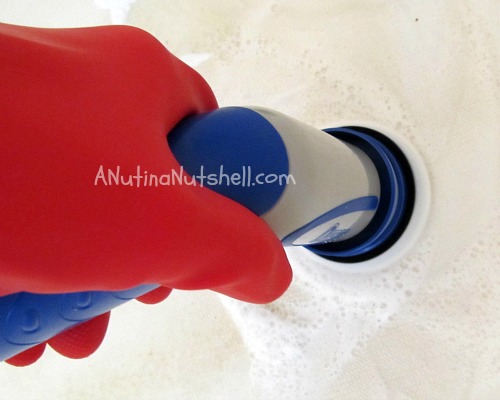 It did a beautiful job of removing soap scum, pink mold and some of the deeply embedded dirt out of the textured tub bottom. It couldn't get it all, but I've never been able to get that off the entire time I've lived here, so any improvement was a plus for me.
With a little maneuvering, it was able to get into nooks and crannies, but it wasn't perfect in that regard. The brush attachment was a little better at getting at the recessed areas of the tile walls and into the corners.
The scouring pads are removable and replaceable too. They're held on firmly with velcro and won't budge while in cleaning mode though.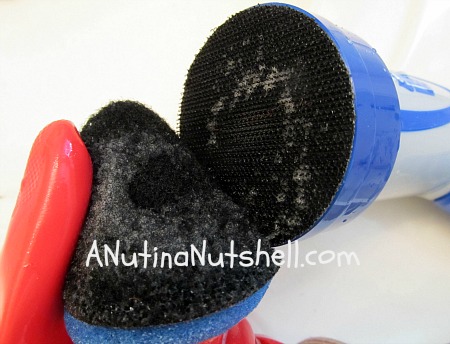 After use, a simple rinse under water makes for easy clean-up.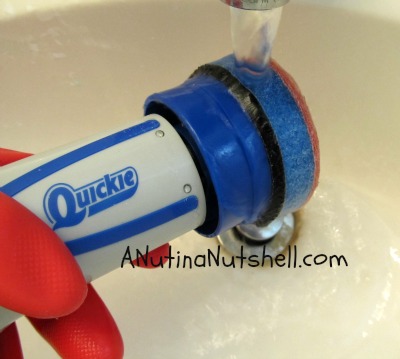 You can see that it really did make a difference on the tub, and it didn't aggravate my carpal tunnel syndrome at all!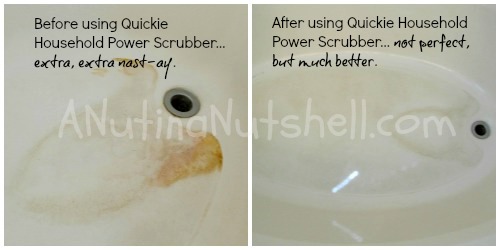 I also made a little video so that you could see it actually cleaning the surfaces and get an idea of how the gadget does its thing.
Is it perfect? Of course not; nothing's perfect, and I wish it maneuvered into corners a little bit better. Also, it moves at a steady, gentle pace and obviously works on a small area at a time so it's a little slow-going. (Maybe I'm just impatient because I hate cleaning!)
I love that it can be used under water and in all sorts of ways though, and I love the idea of letting kids use it to help clean too, with supervision of course. I think they'd get a huge kick out of it!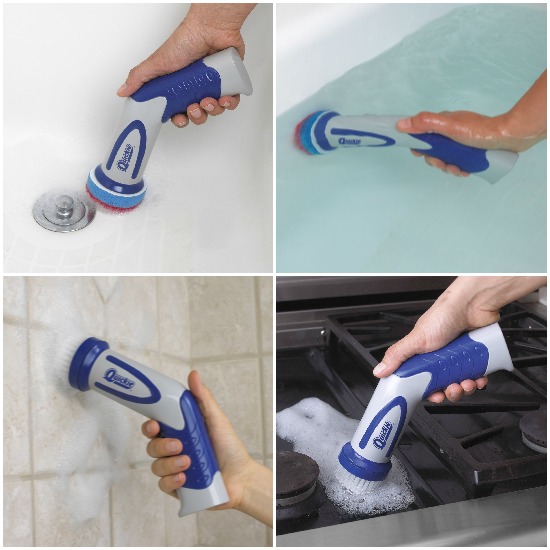 Buy It: Look for the Quickie Household Power Scrubber in nationwide stores. I spotted it at Walmart for $19.96. For more info, visit Facebook.com/quickieclean
What do you think of the Quickie Household Power Scrubber? Could you use something like this?
I received the product for review, and all opinions are mine alone. No other compensation was received.