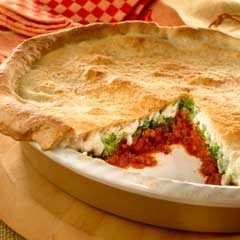 I tried this Ragu recipe for Upside-Down Deep Dish Pizza recently, and I wanted to share it with you. It was super easy to make, and tasted so yummy!
Ingredients
1 package (10 oz.) frozen chopped broccoli OR spinach, thawed and squeezed dry (optional)
2 cups shredded mozzarella cheese (about 8 oz.)
1 can (13.8 oz.) refrigerated pizza dough
1 lb. lean ground beef
1 jar (1 lb. 8 oz.) Ragu® Old World Style® Pasta Sauce
Directions
Preheat oven to 375°. Brown ground beef in 12-inch nonstick skillet; drain and season, if desired, with salt and ground black pepper. Stir in pasta sauce, and bring to a boil.
Turn into 2-quart deep dish pie plate or baking dish.
I made two pizzas: one with ground beef, and one without.
On the first pizza, I added mushrooms, pepperoni, and spinach on top of the meat sauce.
On the other pizza, I just used Ragu sauce and spinach.
Then I sprinkled cheese on top of both pizzas.
Place pizza dough over dish, sealing edges tightly.Bake 20 – 25 minutes or until crust is golden.
Let stand 10 minutes before serving.
It was really, really good, especially since you can alter the recipe easily to add your favorite ingredients.
Note: The ground beef mixture can be cooked ahead of time and refrigerated in the baking dish until assembly time. Just heat it in the microwave until hot before topping and baking.