I participated in a campaign on behalf of Mom Central Consulting (#MC) for Reebok. I received a product sample to facilitate my review and a promotional item as a thank you for participating.
These Reebok #Skyscape shoes remind me a little bit of an old pair of sneakers I wore out, and that's the sole reason (see that?) I agreed to try a pair.
That and the fact the squishy soft upper is manufactured using the same techniques and processes as molded foam bras, and hello, I'm all for that kind of foot cradling!
And they're lightweight — they weigh just 5 ounces each!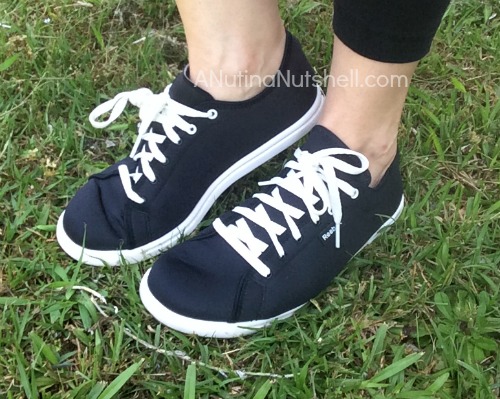 I hate breaking in new shoes because my feet are persnickety and new shoes always irritate me in some way. So like a fool, I wore these on a day when I was doing the airport shuffle and would be on my feet and unable to change shoes all day.
Except I won the lottery — no pain, all gain. These Skyscape shoes are the most comfortable sneakers I've worn in well, forever.
They say they're like walking on a cloud (because of the cloud-like pillows on the sole). Having never walked on a cloud, all I can say is that they're so comfortable that you don't notice you're wearing them.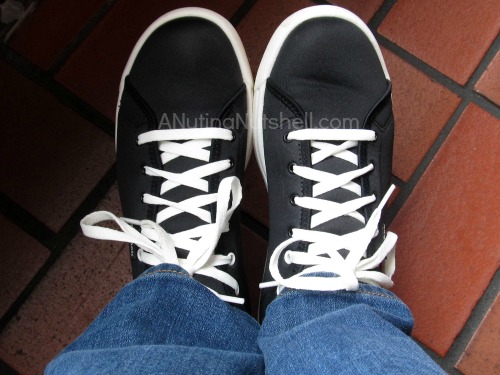 If I didn't just get a pedicure and feel the need to show the pretty toesies, I'd be wearing these every day. As it is, I'm wearing them on days when I'm on my feet a lot (traveling, shopping, running errands). I wore them again last weekend when I was strolling around Colonial Williamsburg all day. My feet never got hot and sweaty; they stayed comfortable and happy.
I'm not saying my feet weren't tired of walking at the end of the day because of course they were, but just normal tiredness, not "shoe pain tired" like I usually get.
They're soft, flexible, stretchy and squishy! (Machine washable too.) Somehow the design of the shoe supports natural foot movement and provides cushioning and breathability for all-day comfort.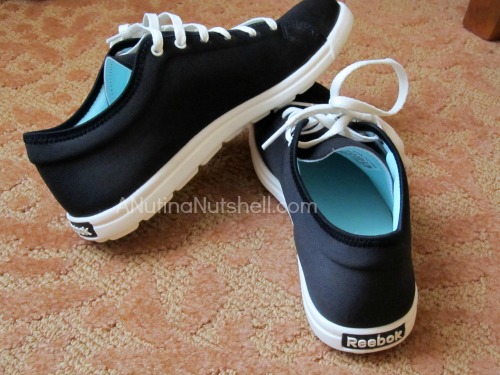 The design is cute enough to wear with jeans, skirts or yoga pants, and they're available in several colors at Kohl's: black, pink, blue and gray. I had a heck of a time deciding which color to get!
Which color of Reebok Skyscape shoes would you choose?