I participated in a campaign on behalf of Influence Central for The Salvation Army #RedKettleReason campaign. I received a promotional item as a thank you for participating.
The holidays are here and they serve to remind us how important it is to help, to share, and to be kind to others. That's a Red Kettle Reason! Of course these are things we should practice all year long, but it's easy to get caught up in our own little worlds.
Sometimes it takes a reminder like seeing the iconic red kettles and hearing the sound of a ringing bell. Just this weekend, I spotted a stand for the first time, but the red kettle wasn't there yet.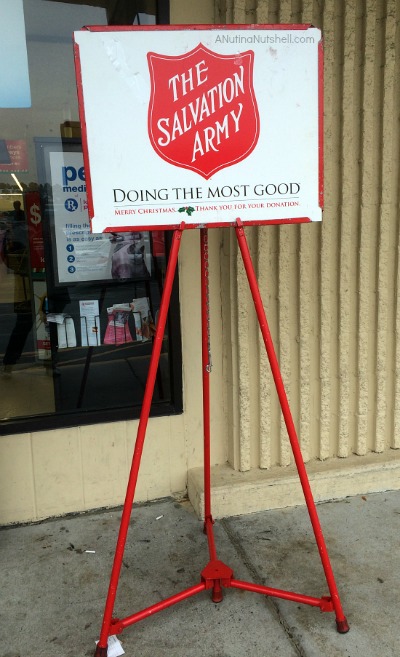 Speaking of the red kettle, do you how the Salvation Army's red kettle came to be?
In December 1891, the Salvation Army's Captain McFee, wanted to give a free Christmas dinner to the poor in San Francisco but he didn't have funds to do so, so he placed a large, conspicuous pot at the Oakland Ferry landing for people to drop donations. Over the years the tradition grew to become what it is today, spreading the spirit of Christmas to those who may otherwise be forgotten – the aged and lonely and the poor and unfortunate.
The Salvation Army is one of the world's largest and oldest providers of social services and for more than 130 years, they've been "Doing the Most Good" in this country.
As my kids grew up, I made a point to always donate on my way out of the stores that had the red kettle. We didn't really have much extra money, but we knew were more fortunate than many others, and that was my red kettle reason.  I think children who see their parents giving consistently will be more likely to follow in their footsteps later in life.
Red Kettle Reason Campaign
This year, the Salvation Army is encouraging people to use the #RedKettleReason hashtag on social media and share their reasons for giving.
Donors can visit RedKettleReason.org for an easy way to donate and to see an interactive mosaic and map of their social media posts along with everyone else's!

What's your Red Kettle Reason for giving?