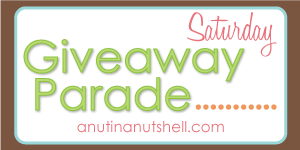 If you're hosting a giveaway, add it to the linky. Blog giveaways only.
Links must be directly to individual giveaways, not to your home page or giveaway category. Try to remember to put an end date!
Please send a tweet and share!

Thank you for supporting the Saturday Giveaway Parade all these years! As part of some big changes in the works, I will no longer be hosting a linky. Today is the final link- up.