Sponsored by Lunchbox. All opinions are mine.
Fitting the expense of gift giving into a budget isn't always easy, so I keep my eyes open for rebates and deals on things I'm already buying. I love receiving those little rebate checks in the mail.
Here's a $5 Save with Suave deal (which I'm actually going to use myself because I buy Suave shower soap 3 or 4 at a time anyhow — suuuuuper affordable).
Buy any 3 Suave® products and get $5 off your utility bill!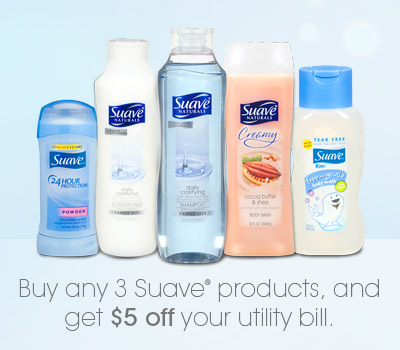 Here's what you do:
Buy any 3 Suave products at Walmart by 12/31/13
Snap a photo of your receipt, and email it to dpsg@drvusa.com. Go to tpgrewards.com/pic for details and instructions.
Receive $5 to pay towards your water, heat, or electric bill.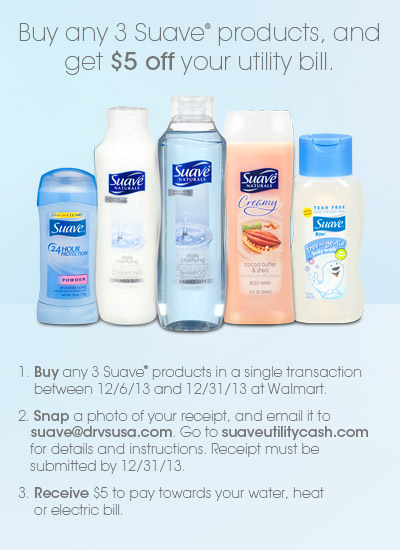 How's that for easy? At this time of year when utility expenses are higher, every little bit of savings matters, and because Suave products are inexpensive to begin with (in my opinion), this is a total win-win!
Visit Walmart.com for a peek at all the Suave products they have available!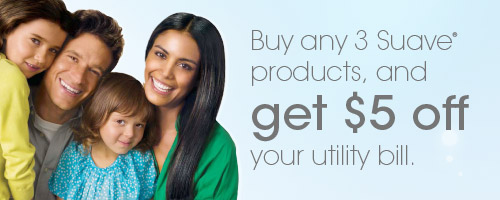 Happy Savings!