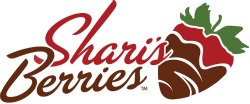 I was just about to place an order at Shari's Berries last month for the exact same thing I ordered last year: six dipped strawberries and a cheesecake trio.
Nummy x 9.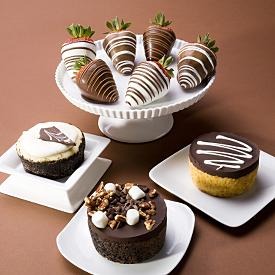 But then I saw all the dipped cookies, candies and Christmas nuts. Oh my!
It wasn't an easy decision but I went with the Deluxe Snack Attack gift basket because of all the delicious mini-crunch possibilities, and I loved the way it was packaged.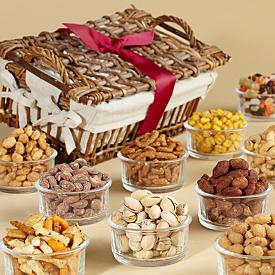 The basket was every bit as cute in person as it was on the website. Gotta love when that happens.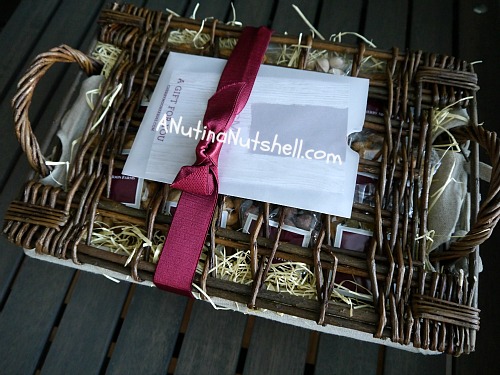 Holy shnikeys, there were twenty little bags of snack time fun, and each of them was way bigger than wimpy size with enough treats to satisfy well beyond a single snack session. In fact, I still have about half left, and it's been about 3 weeks since they arrived!
The goodies: 6 oz Hollywood Trail Mix,  6 oz Cinnamon Almonds, 6 oz Colossal Pistachios, 6 oz Corn Nuts, 6 oz Honey Roasted Peanuts, 6 oz Honey Sesame Sticks, 6 oz Butter Toffee Peanuts, 6 oz Rice Cracker Mix, 6 oz Roasted Salted Cashews, and 6 oz Smokehouse Almonds.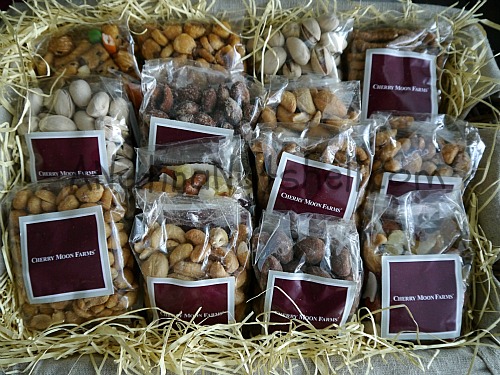 I love the mix of salty and sweet options, and the flavors are outstanding, especially the cinnamon almonds – my favorite so far!
Each of the individual snack bags is clearly labeled with what's inside, and even though there are no food allergies in my family, I still really appreciated the fact that every label also included allergen information.
Buy It! Check out Shari's Berries for last minute holiday food gift ideas. The Deluxe Snack Attack gift basket is priced at $64.98, and there's a smaller sized basket for $44.99 as well.
What's your favorite kind of nut or bite-sized snack?
A gift code was provided. My decisions on what to buy and opinions of the snack-worthiness are my own.