It's the game of Simon with a modern twist! Simon Flash features four brainteaser games in a set of four electronic cubes which light up, flash, and make sounds!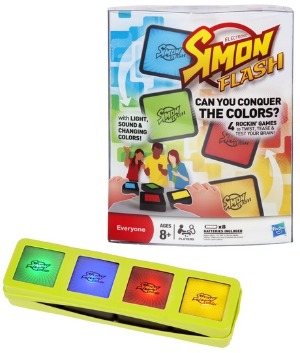 To turn on the cubes, line them up with their sides touching, and then press their tops. When they power up, they'll flash the game menu in red, yellow, blue, then green.
There are four different games to play:
Simon Classic – Correctly repeat a longer and longer sequence of colors.
Simon Shuffle – Solve the puzzle by lining up the colors in the original order they were displayed.
Simon Lights Off – Solve the puzzle by lining up the cubes in the pattern which makes all the lights turn off.
Simon Secret Color – Figure out where to place the cubes in order to get them to all light up as the same color.
The games last from 90 seconds to a couple of minutes, and they'll challenge memory, speed, and logic. My favorite is the Lights Off game!
Here's a little video I made to give you a better idea of how it's played:
The cubes are powered by 8 AAA batteries (included), and they also come with a carrying case. I wish there was a dedicated on/off switch because I took the game with me on my recent road trip, and whenever it was jostled in my luggage, it turned itself on. Good thing they will power themselves off after 3 minutes of inactivity!
The game can be played solo or with additional players by taking turns, and it's designed for ages 8 and older. Younger children may be able to play with some help.
Last year I tried Scrabble Flash, which is also an electronic cube game, and I'm happy to say that I like this as much as I liked that.
Buy It! Simon Flash retails for $29.99, but I found it at Amazon
for
much
less!
GIVEAWAY!
One lucky reader will win Simon Flash from Hasbro!

(New Rafflecopter form – sign in using your Facebook OR name and email)