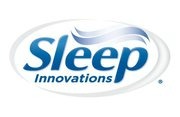 When I was shopping for a mattress a few years ago I poo-poo'd the idea of getting memory foam. I'm not even sure I knew why I didn't want it, because I'd never even tried it. I don't regret that decision; it's just interesting that I was so adamant about it.
However, when it comes to where I rest my head…that's a whole 'nother story. Memory foam pillows are nirvana for a noggin.
This is the one I have: the Rejuvenation memory foam pillow.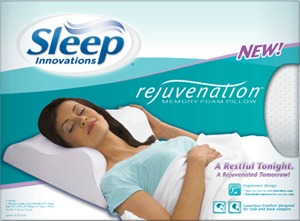 You can see how much different it is than a regular pillow.
It's really squishy, but it springs right back into shape when you let go, hence the name "memory foam."
What's special about the rejuvenation pillow is that it positions your head and neck so that the airways of your nose and mouth are open, and it helps to promote proper head and neck alignment, whether you're sleeping on your back…
or on your side.
I've been sleeping with the pillow for about a month now, and I have to admit that it's hard getting used to having a contoured pillow. Some nights it feels really wonderful, but other nights I kinda miss sleeping on a level surface. Plus, I sleep on my tummy a lot, and that's not a good position to be in when using this pillow.
Even though the jury is still out on whether I like this particular design, what I can say is that I love, love, love having a memory foam pillow. I keep my old one on the bed as a buffer between me and the wooden slats, but any pillow I buy from here on out will be made of memory foam!
Buy It! You can purchase the Rejuvenation Memory Pillow for $68 at Amazon
!
GIVEAWAY!
One lucky reader will win the Rejuvenation memory foam pillow from Sleep Innovations!
(Rafflecopter entry form below is in javascript so it may take a few seconds to load.)
I received the above mentioned pillow for review. No other compensation was received, and the opinions expressed in the post belong entirely to me.