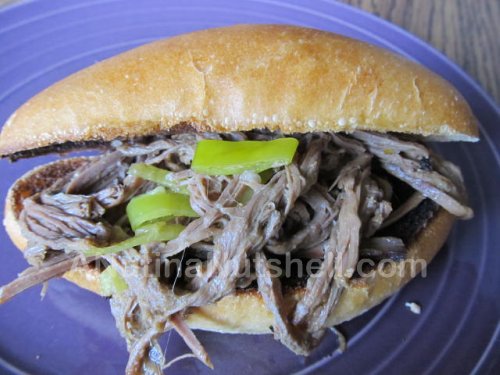 This tender, flavorful Italian beef is so easy to make. Slow cooked for hours in the crockpot, it's sure to become a family favorite.
Ingredients
3 lb bottom round beef roast
2 pkgs dry Italian salad dressing mix
1 cup water
1 16-oz jar pepperoncini peppers (can substitute milder, sweeter peppers if desired)
Sandwich rolls of choice (I used bolillo rolls)
Directions
1. Place beef roast into the crockpot.
Add 1 cup water and the 2 packages of Italian salad dressing mix.
3. Cook on low setting 10-12 hours.

4. A couple of hours before serving, take two forks and gently pull apart the beef roast. It should be tender enough so that this is easy. Add the jar of peppers (including liquid) into the crockpot. Mix the peppers into the shredded beef and continue cooking on low until you're ready to serve dinner.
5. Toast sandwich buns under broiler and then serve with a generous amount of Italian beef.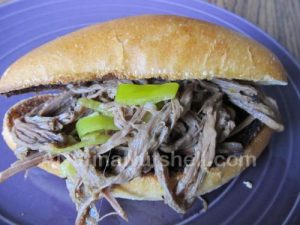 Enjoy!