This Southwest-style Baked Mac & Cheese is deeeeelicious, and the beauty of the recipe is that you can make it in a homemade or semi-homemade way.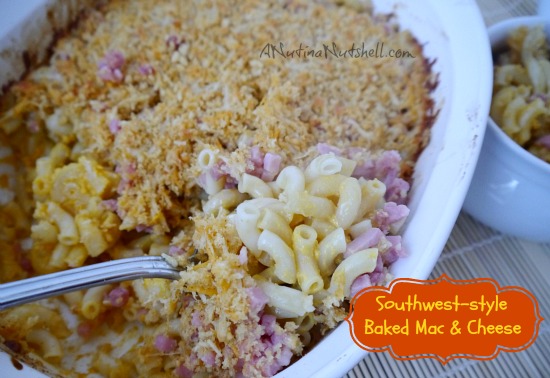 I made this semi-homemade as part of the #KraftFreshTake challenges I've been doing, and let me tell ya… following someone else's dinner rules is not easy!
This particular challenge limited me to a four ingredient meal, and since one of them was already accounted for, the Kraft Fresh Take Southwest Three Cheese flavor, I really only had three more I could use.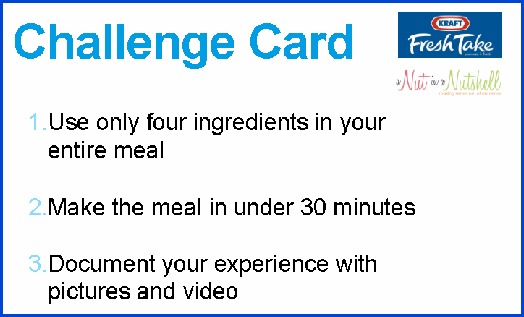 And that's why I went semi-homemade, something I would not have done outside the challenge. (Well, maybe on a busy day…)
Southwest-style Baked Mac & Cheese 
(semi-homemade version)
Ingredients
Kraft Fresh Take Southwest Three Cheese flavor
Kraft Macaroni & Cheese Deluxe (14 oz)
1/2 cup milk
1 cup diced ham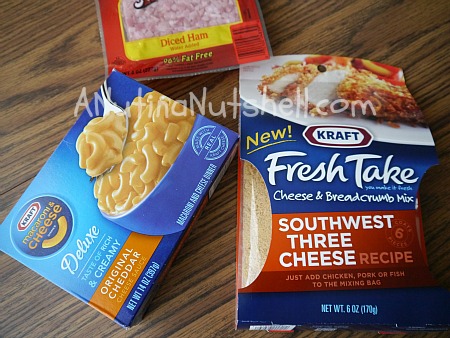 Directions
1. Prepare the Kraft Mac & Cheese Deluxe dinner according to package directions, but when mixing in cheese sauce with pasta, add 1/2 cup milk. Add the diced ham, mix well and pour into casserole dish.
2. Combine the seasoning and cheese pouches of the Kraft Fresh Take mix and then evenly pour over the top of the macaroni and cheese.
3. Bake at 400 degrees for about 20 minutes until golden brown. Serve and enjoy!
The seasoning adds a zesty kick of southwest heat, and the combination of the creamy cheese and crunchy seasoning really makes for a unique and flavorful baked mac & cheese.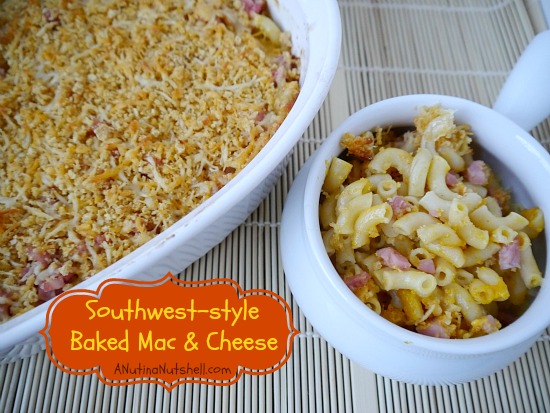 Note: For a homemade version, prepare your favorite macaroni and cheese recipe and then add the Kraft Fresh Take Southwest Three Cheese seasoning and cheese packet over the top and bake.
Is most of your cooking homemade or semi-homemade?
KRAFT Foods is providing the prizes for this program at no cost to me and has provided me with a gift of equal value for review.  This program is not administered or sponsored by Kraft Foods or its affiliates, but solely by A Nut in a Nutshell.