I'm a Nature's Sleep ambassador and receive Nature's Sleep products to review. All opinions are completely my own.
I have a tendency to stack and pile stuff, mostly papers and clothing…. mostly everything else too. So I rely on spring cleaning to crack my game and set me straight, and whenever someone or something grand is set to arrive, it's tidy time.
And the appearance of a new Nature's Sleep memory foam mattress is definitely grand! My old mattress isn't that old, but it feels like sleeping on a 3-D topographical map with all of its valleys, canyons and meandering byways. No good!
So to prepare the place for a comfy new mattress, I set about on an afternoon of spring cleaning in the bedroom.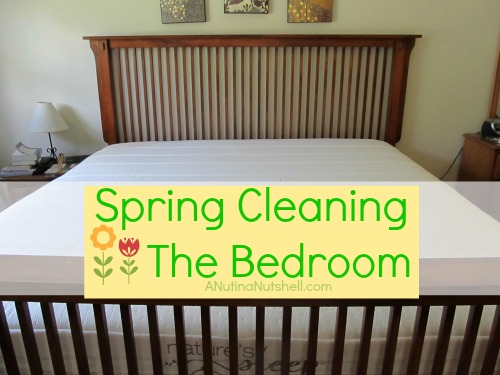 What Not to Forget When Spring Cleaning the Bedroom

Pick everything up off the floor that shouldn't be there, and put away clothing. It's a good time to sort through your closet too.

Clean cobwebs out of ceiling corners, dust baseboards, doors, air vents, window frames and furniture. Clean ceiling fans.

Wash draperies and clean blinds.

Vacuum under the bed.

Refresh the bedding: When stripping the sheets for washing, give the blankets, comforters and pillows a wash too.

Flip mattress if still in good condition; if not, purchase a quality replacement mattress. (Mine is the Cayman gel mattress from Nature's Sleep.)
After my spring cleaning was finished, I took a nap.
But then I heard the FedEx truck in my driveway and when I saw the driver open the rear door and get out a hand truck, I knew my mattress had arrived. But that son of a gun was heavy, so I had to call my boyfriend to come over and get the thing inside.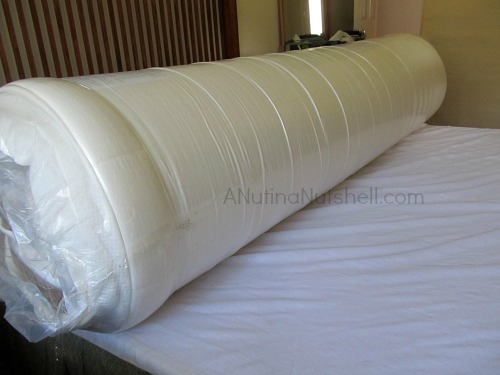 It came in a box, wrapped in heavy-duty plastic, squished into a roll like this! I helped my boyfriend by watching him carry the mattress into my room.
We carefully cut the plastic packaging open, unrolled it on top of the box springs (my previous box springs didn't need to be replaced) and the mattress sprang to life and started to expand back to size.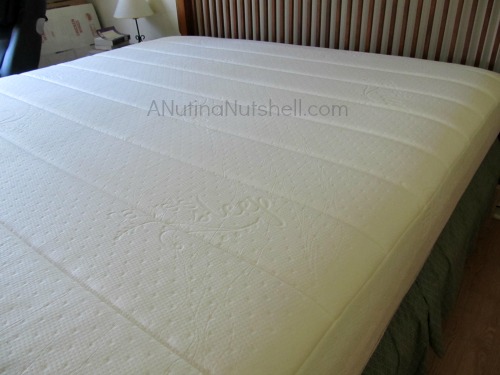 Although it appeared to decompress quickly, the packaging says not to sleep on it for 24 hours, and I'm a good girl so I obeyed the rules.
I'll be updating you on how I feel about the mattress over the next few months, but so far, sooooo darn good!
Don't miss the 40% sale off of all Nature's Sleep toppers with free shipping! (Continental US only.) Use the code TOP40 when making your purchase.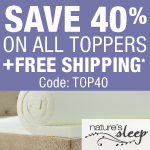 Be sure to join the Nature's Sleep Twitter parties at 1PM ET on the 1st and 3rd Tuesday of every month! We'll talk about our love for a good night's sleep and you may win some Nature's Sleep prizes! Just follow the hashtag #NaturesSleep
What kind of spring cleaning have you done so far this year?