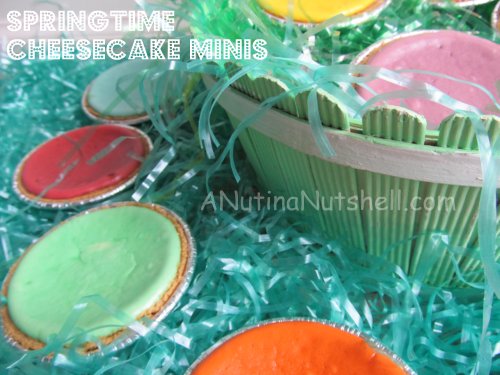 Make little Easter cheesecakes in delightful Springtime hues, and fill them with your choice of topping(s). The possibilities are endless and delicious!
Filling
3 (8-oz) packages cream cheese
1 14-oz) can sweetened condensed milk
3 eggs
2 tsp vanilla extract
18 4-oz mini graham cracker crusts
Directions
1. Preheat oven to 350 degrees.
2. Beat cream cheese until smooth. Gradually add sweetened condensed milk; beat well. Add vanilla and eggs; beat on medium speed until smooth.
3. Separate filling into individual portions (about 1/3 cup). Using food coloring, tint in the colors of your choosing.
4. Fill mini graham cracker crusts with the filling. (Optional: Fill crust halfway, then spoon a couple teaspoons of jam (blueberry, cherry, raspberry, etc.) and add the rest of filling.) Bake for 15-20 minutes.
5. Remove from oven and cool completely. Once cooled, refrigerate until serving.