I've never been a fan of energy drinks because they taste like crap. You know it and I know it, but a lot of people suffer through the nastiness just to get that jolt of energy.
Not me. I'd rather take a nap.
But since I love doing taste tests, and you already know that I sometimes fight away the sleepies in the afternoon…I volunteered my taste buds to Starbucks Refreshers natural energy drinks.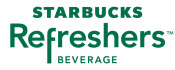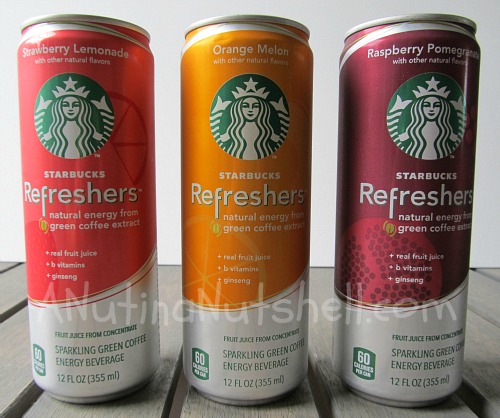 Although I was more than happy to refuel my energy, the pessimist in me just didn't expect a whole heck of a lot out of the sips I was about to take.
But I did have to admit all three flavors looked sparkling and pretty: Strawberry Lemonade, Orange Melon, and Raspberry Pomegranate.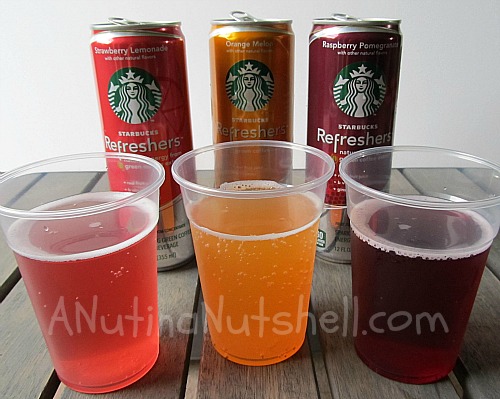 I didn't expect them to taste like juice, but that's exactly how they tasted to me. (That's a good thing.) The flavors were bold but not overdone, and the sparkling carbonation perfectly popped those flavors on my tongue.
The natural energy in the beverages comes from green coffee extract, but I could only taste a hint of coffee flavor in one of them, the Strawberry Lemonade.
The lightest of the three and my very favorite was the Orange Melon. I tend to prefer a very subtle sweetness to my beverages and this hit the mark perfectly. Without a doubt, it would be the one I'd grab as a daily pick-me-up. With the added vitamins and antioxidants, it fits my healthy lifestyle to a tee.
Each beverage is a sparkling, delicious boost of natural energy from Green Coffee Extract you can enjoy anytime. With real fruit juice, B vitamins, ginseng, antioxidants from vitamin C and only 60 calories per can, it's a pick-me-up you can feel good about.
Which of the the three flavors would you try first?
This is a sponsored post, produced in collaboration with Bliss and Starbucks. I received a Starbucks Refreshers sample to review. The opinions shared in this post are my own.