Stop Sleeping Around!
You think you're being discreet, but you're not.
I've seen how you sleep around. We've all seen you.
Oh my… the public nodding off and social snoring… it's everywhere!
Like this guy… He was in the middle of a theme park and still couldn't stay awake!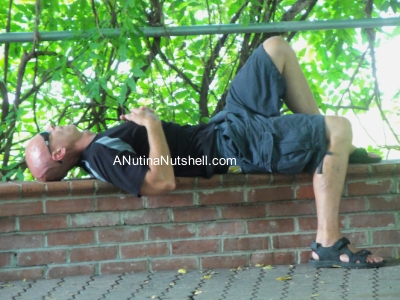 People fall asleep in the great wide open because they're not getting a good night's sleep. And confession time: I've done it too. I've fallen asleep far too many times on airplanes and startled myself awake because my head went lolling about, or my arm or foot shot out in front of me.
And that's not embarrassing at all….
So that's why I'm supporting the Stop Sleeping Around campaign from the Better Sleep Council.
The BSC is a non-profit organization supported by the mattress industry, and it's committed to "educating the public about the importance of sleep to good health and quality of life, and about the value of the mattress and sleep environment in pursuit of a good night's sleep."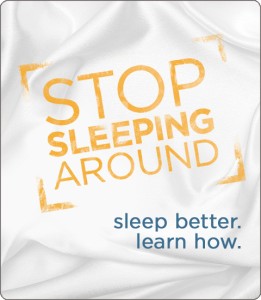 We all know we're supposed to get a good 7-8 hours of sleep a night on a comfortable and supportive mattress, which by the way, doesn't have as long a life span as we think.
Evaluate those bad boys after five to seven years to make sure they're still supporting you properly. Don't wait 25 years like I did! I woke up every morning with an aching back, and finally realized that it was because my mattress was worn out.
I replaced it a couple of years ago, and now I sleep like a baby. (Wait, babies sleep like crap, don't they?) I don't sleep like a baby, I sleep like… oh heck, I don't know. I just sleep well, ok?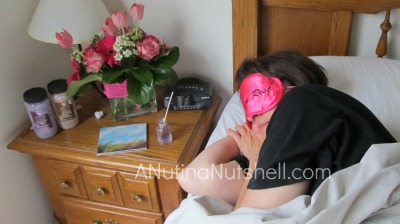 So start thinking about making some changes yourself! Because, if you don't get a good night's sleep, you might just end up in an embarrassing situation like the one in this video.
It totally made me laugh when I watched it!
(It's just one of the hilarious videos created as part of the campaign, so check them all out on the Stop Sleeping Around Facebook page, and share them with your friends!
You'll also find oodles of tips to help you catch some quality zzzz's inside the bedroom instead of out of it!
GIVEAWAY!
One lucky reader will win a Sleep Sanctuary Kit and a $100 Visa Gift Card to help start you on the path to better sleep!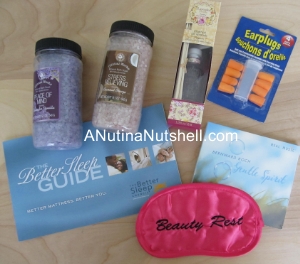 The sleep sanctuary kit includes the following:
(1) Sleep Sounds CD – to help your mind relax as you fall asleep to soothing sounds
(2) Mineral Bath Salts – which have been shown to induce calmness and promote relaxation
(1)Lavender Oil Reed Diffuser – to provide a little aromatherapy to help relax and calm the mind.
(1) Sleep Mask – to block out distracting light
(1) Package of Ear Plugs – to block out any distracting noises
(1) Better Sleep Guide – to provide additional tips on creating your personal sleep sanctuary and getting a full night's rest


a Rafflecopter giveaway
This post was written as part of a compensated campaign for the Better Sleep Council and Stop Sleeping Around. All opinions and experiences in the post are my own.
RULES: Giveaway ends 11:59 pm ET, May 27, 2012. No purchase necessary. Open to legal residents of the fifty (50) United States and District of Columbia, Eighteen (18) years of age or older. Void where prohibited by law. One lucky winner will be chosen using random.org. One entry per household and IP address. The number of eligible entries received determines the odds of winning. Cheating will not be tolerated, and entries will be verified for accuracy. I will email the winner and they will have 48 hours to respond to the notification email, or a new winner will be chosen. Entering this giveaway means you are in agreement with this blog's Terms of Use policy.