Because I travel alot, I'm constantly taking photos on either my DLSR or my smartphone, usually both. That means shifting from one to the other as fast as I can, so I don't lose whatever moment I'm trying to capture. And then I have to tweet, instagram, facebook, email or text those photos. It's a constant shuffle from device to device, and sometimes the worst happens.
A drop.
You know that sick feeling in your stomach when you reach down to pick up your phone and brace yourself for the damage?  The worst.
I hope your device has Corning® Gorilla® Glass 4 on it.  Is it on yours? Corning Gorilla Glass 4 is the toughest cover glass yet, and gives you a heck of good chance of withstanding damage from those inevitable drops.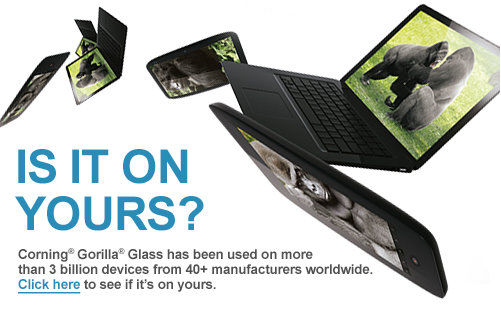 In laboratory tests, Gorilla Glass 4 survived up to 80% of the time when dropped from 3 feet high, and was up to 2x tougher than competitive glass designs.
That's a pretty darn good survival rate!
Devices are most frequently dropped in garages and on driveways, so for Corning Incorporated, makers of Gorilla Glass 4, the focus is on improving damage resistance against sharp contact, such as drops on asphalt, concrete and other rough surfaces.
I know I've personally dropped my smartphone at least 5 times on hard surfaces, most recently on a Las Vegas sidewalk. Someone bumped into me as I was holding my smartphone with two fingers while taking a photo with my big camera.
I would be absolutely lost without my phone! It's my lifeline to everyone I love, and quite frankly, if my phone broke, I wouldn't even know the cell phone numbers of my own children. (Note to self: "What, are you crazy? Write those numbers down.")
I'm tired of playing device drop roulette.
Are you?
Check here to see if your device has Corning Gorilla Glass on it, and to see a list of devices that do have it.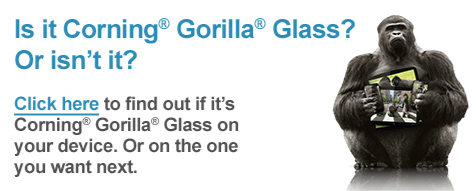 Corning® Gorilla® Glass has been used on more than 3 billion devices from 40 major brands. Is it on yours? Click here to find out.
Corning Incorporated sponsored this blog post. The opinions and text are all mine.