My daughter had long been singing its praises to me, but it wasn't until last year that I got on board with switching to natural deodorant. She made the switch to Tom's of Maine several years ago when she was looking to avoid chemicals and artificial ingredients, and although I'm concerned about those things as well, the real reason I switched was because of "stink".
Here's what happened. It was the weirdest thing!
From my teenage years up until this wacky happening, I'd been showering daily and using a wetness protection and deodorant product on my underarms without any problems. Out of the blue last year, I started catching a whiff of body odor at some point during the day — mine. The heck?
I'd discreetly sniff my pits and sure enough, there was a faint funk there.
No. Just no.
So I switched products… same thing. I had no idea what was going on. I did a little research, and it seems this was happening to other people too. Long story short, it had something to do with an increase in malodorous bacteria because of my body's individual response to the chemicals in the products I was using.
I took my daughter's advice on switching to natural deodorant, started using Tom's of Maine, and I kid you not. I've never had the stanky situation again.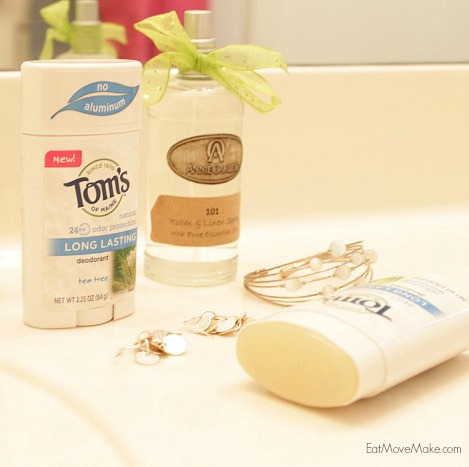 Confession: It took about a week to get used to the change in formulas, partly because my body had been so used to using a conventional product, and partly because deodorants don't stop perspiration, so the sticky feeling was a little uncomfortable at first.  But in the summer when I'm perspiring, I'm wearing sleeveless tops anyhow, so it's really not a big deal. In the winter, I rarely perspire, so it's not an issue then at all.
But the bottom line is that my body is back in balance, and I'm no longer exposing myself to aluminum, petrochemicals or artificial fragrances and preservatives, because none of that nonsense is in Tom's of Maine natural deodorant.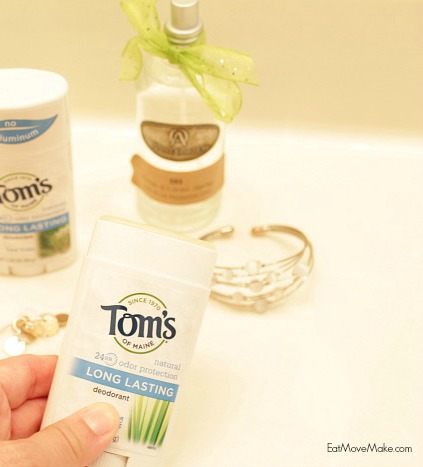 Best of all, there's no trace of stink anymore — none. The clinically proven, 24-hour odor protection uses only natural fragrances, odor-fighting hops and the mineral zinc. Plus there's no animal ingredients or animal testing with Tom's of Maine, and 10% of profits from purchases go back to helping people and the planet. (The packaging is also fully recyclable through local municipalities or the TerraCycle Tom's of Maine Natural Brigade.)
I am very happy with each of the Tom's of Maine natural deodorant products I've been using, and I have to give a special nod to my favorite scent, lemongrass. Switching to natural deodorant was the best decision I could have made!
I'm not the only one who switched. Take a look at Elise's story:
Take a look at the complete line of Tom's of Maine products, and connect with them on social: Twitter | Facebook | Instagram | YouTube.
GIVEAWAY
One (1) lucky reader receives an assortment of three Tom's of Maine Long Lasting deodorants.
This post was developed in partnership with Tom's of Maine. All opinions are my own.
RULES: Giveaway ends 11:59 pm ET, November 3 2016. No purchase necessary. Open to legal residents of the fifty (50) United States. Void where prohibited by law. One lucky winner will be chosen using random.org. One entry per household and IP address. The number of eligible entries received determines the odds of winning. Cheating will not be tolerated, and entries will be verified for accuracy. I will email the winner and they will have 48 hours to respond to the notification email, or a new winner will be chosen. Entering this giveaway means you are in agreement with this blog's Privacy/Rules/Terms of Use policy.