Sometimes I see an elderly gentleman in public who reminds me of my dad in some way. It catches me off guard, and I find tears springing to my eyes.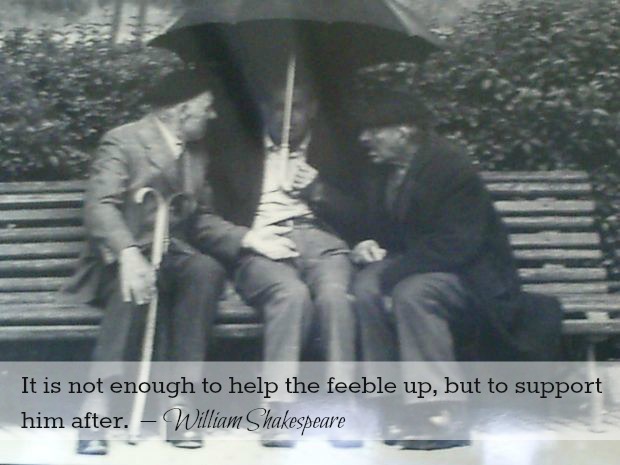 Some of you know (because I've written about it before) that my dad was stricken with polio as a high school freshman and completely paralyzed. He was kept alive solely by an iron lung.
He regained the usage of most of his body, but the top of his left arm and his entire right arm remained permanently paralyzed. He was right-handed, so he had to re-learn how to write and do everything using just the lower half of that left arm.
He figured out a way to do it all.
Thus it was heart-wrenching to watch the effects of post-polio syndrome as they progressively weakened his remaining muscle strength in his later years. It brings tears to my eyes right now as I picture how difficult it became for him to do something as simple as hold his head up for more than a few seconds at a time. He became sad and withdrawn, losing his former zest for life and incredible sense of humor.
My siblings and I had countless discussions about his health decline, and when I read this article at Genworth the other day about the expense and emotions in preparing for long-term care, it brought it all back.
He was so obviously miserable and unhappy. How in the world could we ever bring up long-term care at that point? Why hadn't we done it earlier? We already saw his spirit breaking, and the thought of doing or saying even one thing to speed that up was more than we could bear.
But the fates took him away before we ever had that conversation. In the blink of an eye one afternoon, he fell and never regained consciousness. It was the worst day of my life.
As he lay in a coma, my five siblings, my mom and I all came together to discuss the next steps, and we needed to make sure we were unanimous in any decisions we made. It took a lot of talking and a lot of tears but we finally agreed to do what my daddy would have wanted. We let him go.
I wish we'd talked about long term care with him much, much earlier when he was in the prime of his life. Maybe there was something we could have done to make his final years more comfortable.
We still have our mom with us, and we've made sure we have long term care insurance and arrangements all agreed upon and set up for her.
But please, please, Lord…let that be a long ways off. Losing a parent is a crushing kind of pain.
In loving memory of my dear, wonderful father…thank you to Brandfluential.com and Genworth for the inspiration.