As you can imagine, I've learned an incredible amount about healthy living from being around my fitness queen daughter all the time. The problem is that I don't usually apply what I learn, but I was so inspired by seeing her perform in her first pro bodybuilding competition last weekend, that I've decided to make health and wellness a renewed priority, and that's the reason I partnered with Aetna to share information about the Healthiest Cities and Counties Challenge.
The Aetna Foundation surveyed more than 2,000 Americans for their viewpoints on a variety of healthy living topics, and the results were a bit surprising (at least to me). Nearly 77% of respondents considered themselves somewhat or extremely healthy, yet the reality with this country's overall health is that half of all adults – 117 million – had one or more chronic health conditions, and one in four adults had two or more chronic health conditions as of 2012. (CDC) That's a pretty shocking disparity!
The survey results also show that half of Americans give their current city or county a health grade of C, based on factors like cost of living, access to health services, nutritious food options and crime and violence rates. Two out of five think their area isn't as healthy as other cities, but have hope for and are willing to do something to make it a healthier environment.
Healthy Living – Tips to Improve Health and Wellness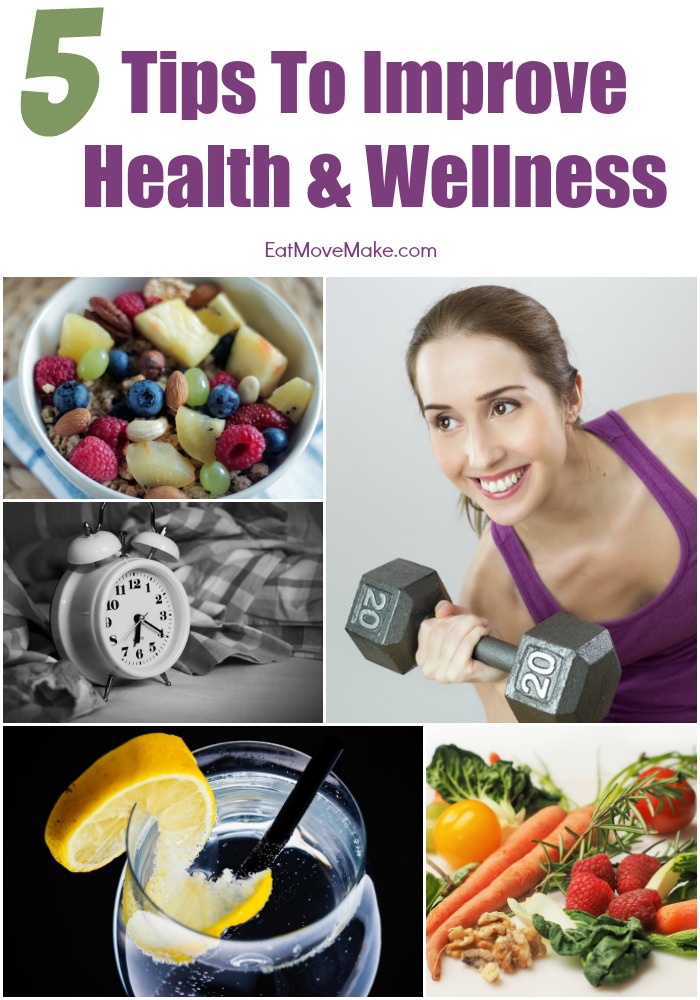 1. Get 30 minutes of daily exercise.
Regular exercise helps you feel more energized, and you can break the 30 minutes up throughout the day. Do jumping jacks or a high-step march during commercials (this is what I do). Make a fun competition with the kids about who can do the most sit-ups or hops on one leg, or put on some music and do silly dances or play freeze dance. When the music stops, everyone has to freeze. When it starts back up, dancing continues!
2. Drink more water and plan your meals.

Before filling up on snacks, check to see if it was thirst first. Perk up water by adding slices of lemon or cucumber, or try sparkling water for a change of pace. Set goals for drinking water so that you hydrate properly throughout the day. My daughter uses this smart water bottle which notifies her through the app if she hasn't sipped water in a while. If you do need a snack, a small handful of almonds, apple slices or baby carrots are great.
3. Take micro-breaks.
Step away from work periodically during the day. Go for a brief walk, do some stretches or play with your pets. I have a new kitten who loves to pounce on me, jump on my desk and walk on my keyboard to let me know it's time to play with her.

4. Put your smart phone and yourself in sleep mode.
Develop a relaxing nighttime routine. It's important to unplug at least an hour before going to sleep. I have my notifications turned off from 8pm – 8am so that I'm sure I won't be disturbed when sleeping by an incoming email or Facebook message. Also, the blue light emitted from electronics makes it harder for the brain to shut down and rest.
5. Get involved.
Partner with family and friends for a support system to help each other make healthier choices and stay on track. Start a garden, take weekly hikes or organize a community bike ride.
The Aetna Foundation's Healthies Cities and Counties Challenge offers communities the opportunity to improve their environments and make them healthier places to live. The Challenge hopes to have 50 cities in the final round, and all finalist cities will receive a $10,000 seed award to help them implement their project.
Visit HealthiestCities.org for more information and follow the #HealthiestCitiesChallenge on social media.