Partnered post with Hershey's. All opinions are honest and my own.
If I told you how many jars of Hershey's Spreads I've licked clean over the last month, you might think I have a chocolate obsession. You'd be right.
My number is six…I mean my chocolate number is six. I've been with six jars of Hershey's Chocolate Spread so far in my life, and I'm not done. Oh no, this girl is not done.
I need all the chocolate!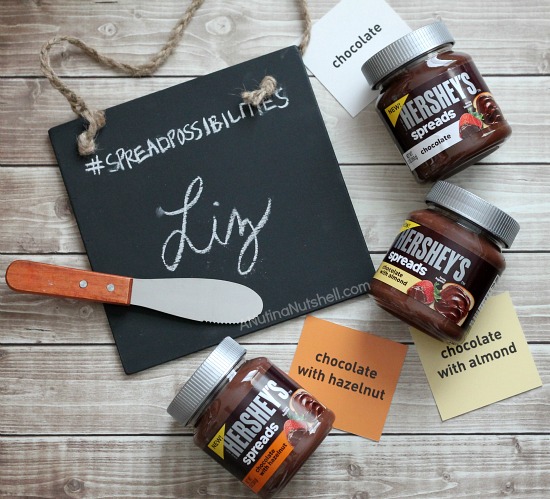 I haven't loved chocolate this much in a long, long time, but the spreads are so rich, so creamy, so decadently perfect that I must have at least a spoonful every single day.
And so it was that I got to thinking about using it in recipes. Hmmm, how about kicking monkey bread up a notch by adding an explosion of chocolate flavor with Hershey's Spreads?
So I did it,  and it worked…oh my red painted ponies, it worked.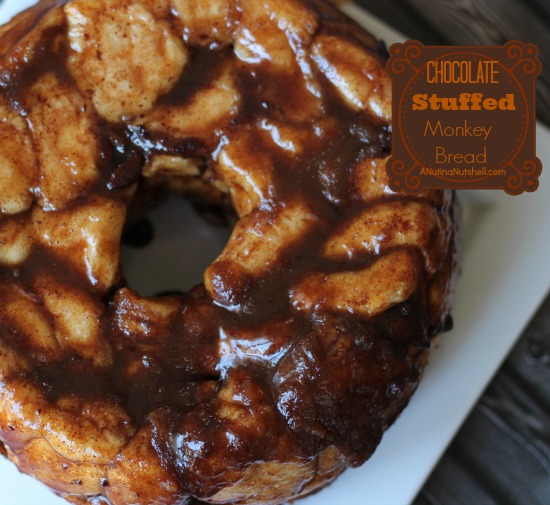 I know you can make monkey bread with refrigerated biscuit dough, but I decided to use frozen bread dough instead. I thawed a couple loaves in the fridge overnight and then I kinda smooshed each of them into an oval-ish, flattish piece of dough which I then cut into equal sections as best I could. (Perfection doesn't matter.)
I put a dollop of Hershey's Chocolate Spread in the center of each piece of dough and then gently closed the dough around it.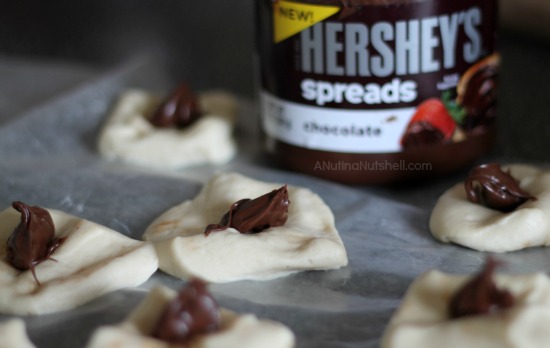 Each of the chocolate-filled dough pieces took a cinnamon-sugar shower and then I placed them haphazardly into a cake pan. (It's no fun if the pieces are all matchy-matchy, so go willy nilly.)
Some of my pieces even had chocolate peeking!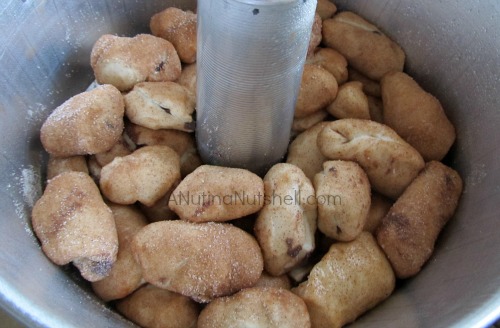 Meanwhile, I was melting the butter, brown sugar and cinnamon on the stove. Once that was heated through and well blended, I poured it over the top of the dough pieces, mmmmmmmm! Then I covered the pan and set it in a warm place to rise for about an hour.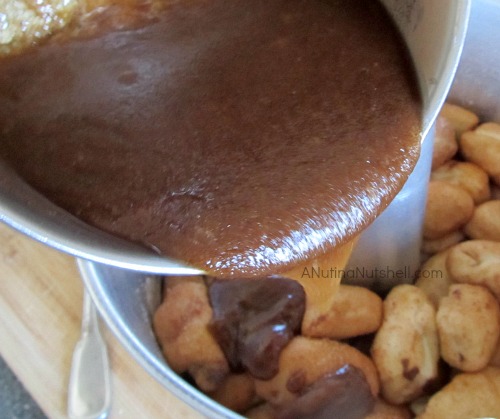 Once it had risen to the occasion, I baked it for 35 minutes in the oven, let it sit for about ten minutes in the pan and then flipped the goodness onto a serving plate so all the gooey topping would glaze it, and then I dug in!
As you can see, the end result was an explosion of chocolate flavor from the inside! It was ridiculously delicious!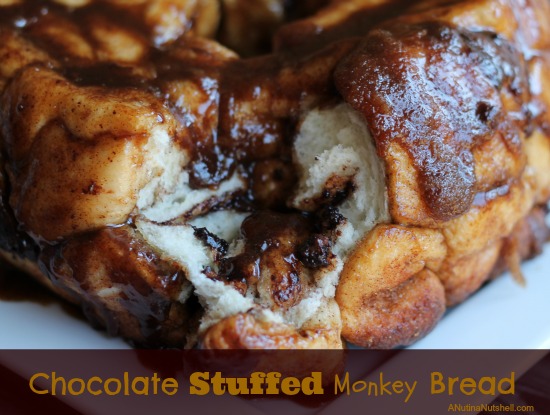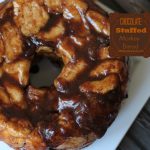 Chocolate-Stuffed Monkey Bread
Ingredients
2

loaves frozen bread dough

thawed

Hershey's Chocolate Spread

1

cup

sugar

2

tsp

cinnamon

1

cup

packed brown sugar

2

tsp

ground cinnamon

8

tbsp

butter
Instructions
Heat oven to 350 degrees. Grease an angel food or bundt cake pan.

Gently flatten bread dough and cut into equal pieces.

Take each piece and flatten it enough so that you can dab 1/2 teaspoon or 1 teaspoon of Hershey's Chocolate spread in the middle. Bring the edges together and seal the dough pocket.

Fill a sealed plastic bag with the 1 cup sugar and 2 tsp cinnamon combination and roll each of the dough pockets to coat. Place in pan.

Melt butter in saucepan on stove and stir in brown sugar and cinnamon until mixed well and heated through.

Pour over dough balls in prepared pan. Cover with cloth and set in warm place to let dough rise. (About 1 hour)

Uncover and then bake in 350 degree oven about 35 minutes. Cool in pan 10 minutes and then flip onto serving plate so glaze will ooze all over the bread. Then EAT!
And a big congrats to Ashley Cabell who won my giveaway for the Hershey's Spreads and tasting kit. Her world is about to change. 😉
I'd love to hear any ideas you might have for fun ways to use Hershey's Spreads in recipes.