I'm going to go out on a Chinese limb and say there are approximately 12,789 Chinese restaurants in my town.
Seriously y'all. What's with it? Especially since approximately three of them are worth my time and money. The good ones are really, really good, but it takes a lot of trial and error to find them.
Most of the time, it's just easier to microwave an Asian-style frozen meal at home and call it dandy.
And thanks to a partnership with Social Moms, I discovered Tai Pei Asian-style restaurant-inspired frozen meals.
It often takes a good coupon to make it interesting, so let me be sure to point you in the direction of one you can use: a Tai Pei buy one, get one free coupon. Grab one while they last!
Tai Pei selections include single-serve entrées and single-serve and multi-serve appetizers:
● Entrées: Beef & Broccoli, Bourbon Chicken, Cashew Chicken, Chicken Fried Rice, Chicken Chow Mein, Combination Fried Rice, General Tso's Chicken, Orange Chicken, Pepper Beef, Shrimp Fried Rice, Sweet & Sour Chicken, Sweet Teriyaki Chicken
● Appetizers: Chicken Egg Rolls, Chicken Potstickers, Pork Egg Rolls, Pork Potstickers, Vegetable Egg Rolls, Battered Green Beans, Edamame, Mini Chicken Spring Rolls, Savory Chicken for Lettuce Wraps, Spicy Mini Chicken Egg Rolls, Mini Vegetable Spring Rolls
My store had three of the entrées so I nabbed a box of each one. Incidentally, the packages are all cutesy Chinese takeout box-shaped. I got Bourbon Chicken, Chicken Fried Rice, and Sweet & Sour Chicken.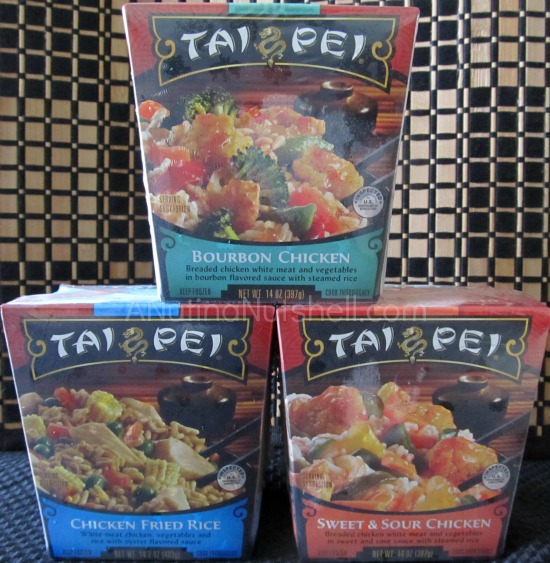 They go straight from freezer to microwave. There's no need to cut vent holes or even remove the plastic wrap. It's so easy! They're ready with about 5 minutes of cook time.
And if that don't beat all, I'll tell ya what does: the taste. It's delicious and surprisingly authentic, considering they are priced at less than $3 each.
The single serve-portions are generous and filling, so there's no way I could eat an entire box by myself. The solution: I served myself a little bit of every kind. The reasonable prices allowed me to purchase a few of them so I could be a little more adventurous.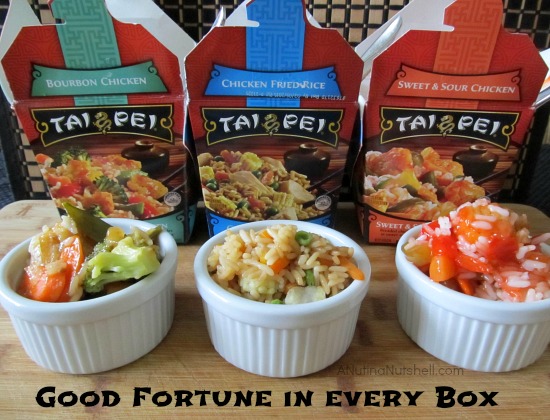 The Bourbon Chicken and Sweet & Sour Chicken had big pieces of white meat, and the ratio of meat to veggies and rice was balanced. Speaking of veggies, they were really nice sized and tender. Also,the rice was perfectly cooked and the Asian-style signature sauces were delicious and tasted like what I've been getting from restaurants.
My store didn't have them yet, but I'm going to be on the lookout for the Tai Pei Asian Garden entrees too. They're the only Asian brand of better-for-you, single-serve frozen entrées.  Each single serve meal contains around 300 calories, 8 grams of fat or less, and real ingredients including lean meats, crispy vegetables, brown rice and whole grain noodles.
● Entrées: Hunan Beef & Broccoli, Chicken Fried Rice, Spicy General Tso's Chicken, Ginger Chicken, Glazed Chicken Potstickers, Mango Chicken, Sesame Chicken, Orange Chicken
Tai Pei is well worth trying if you haven't already. They say there's "Good Fortune in Every Box™, " and they'll get no argument from me.
Visit the Tai Pei website, "like" Tai Pei on Facebook and don't forget to get your Tai Pei coupon!
What's your favorite Asian entree or appetizer? Have you tried Tai Pei yet?
This blog post is part of a paid SocialMoms and Tai Pei® blogging program. The opinions and ideas expressed here are my own.