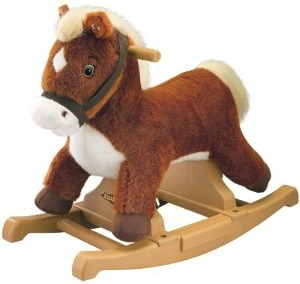 When I saw this Tek Nek Rockin' Rider Pony for the first time, I melted. He's just the cutest little thing, and I wanted to hug him and sit on him immediately.
But because I love him (and there's a recommended 65 lb weight limit), I didn't sit on him.
He can thank his lucky horseshoes for that.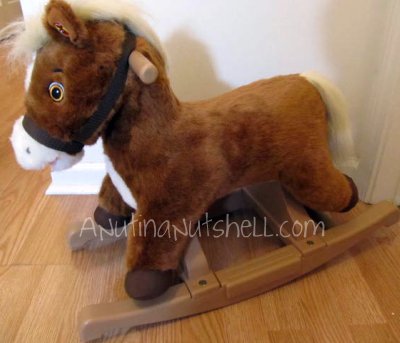 Standing just over a foot tall (riding height), the pony is made for the littlest ones, and it's easy for them to get on and off its back. Plus, the soft plush body is much more comfortable to ride than a traditional wooden rocking horse.
I also like that the rocking rail is made of plastic. My old wooden rocking horse cracked and left jagged splinters, so I appreciate that this one is much safer.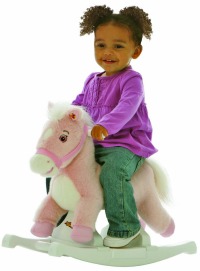 The one thing to be cautious about is that it's likely to scoot across the floor a little bit when kids are rocking on it. It will move less on carpets, but it will still move, and I can remember as a child that I wanted it to scoot. I'm pretty sure all kids love that! 😉
Another fun thing about the pony is that it talks, sings, and moves its mouth. But no worries, there's volume control and an on/off switch in the battery pack (3 AA batteries included) right by his mane.

A gentle squeeze on one ear will bring on a song, and a squeeze on the other ear will have the little pony neighing, galloping, or talking. The sound effects are pretty darn realistic too!
The only thing I thought was a little odd is that the pony sings in a male voice, but talks in a female voice. Not a big deal; it just seems a little silly.
I wanted you to be able to see how the pony moves its mouth while it sings and talks, so I made a little video.
You fell in love with it too, didn't you?
Buy It! The Tek Nek Rockin' Rider Pony is available at Amazon
for $62.99.
GIVEAWAY!
One lucky winner will receive a Tek Nek Rockin' Rider Pony in your choice of pink or brown! (After you enter here, head over to Thanks, Mail Carrier. She's giving one away too!)
(Rafflecopter entry form below is in javascript so it may take a few seconds to load.)
I received the Tek Nek Rockin' Rider Pony for review. All opinions expressed in the post belong entirely to me.