You know how right before a holiday, you try to eat something completely different than whatever it is you'll be indulging in on the big day itself?
Or is it just me that does that?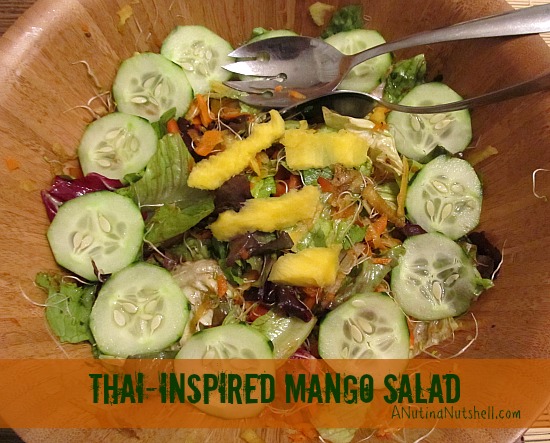 Ahem anyhow. So, back to me…
On Thanksgiving Eve, I was in Sam's Club scoping out what might be Black Friday get-out-of-bed-worthy, and while I was there, I  decided to grab an opposite meal.
The opposite of Thanksgiving is Asian. (According to my rules.)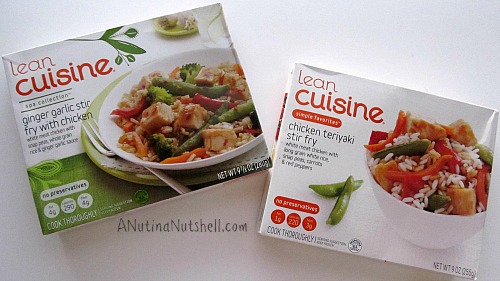 Soooooo, since Sam's Club sells frozen meals (and everything else under the sun) in bulk, I obviously went home with Lean Cuisine times more than one. (A 6-pack, to be exact. Score.)
Why Lean Cuisine meals, you might ask?
Three reasons:
I love the way they taste.
They're healthy and low-calorie, so I can add a side dish and still not feel guilty.
They have a loyalty program, and there are reward points in every box. 😉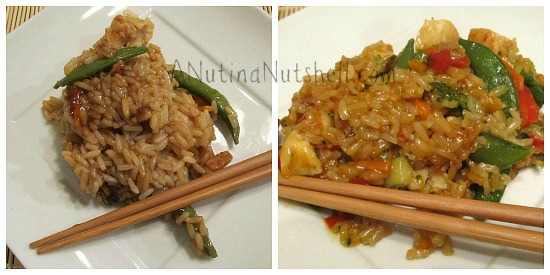 Now about that side dish thing…. I could easily have made a simple tossed salad and called it quits.
Pish posh!
I wanted a creative side which would enhance the Asian flavors, so that's how I ended up making a Thai-Inspired Mango Salad and wow, was it delicious!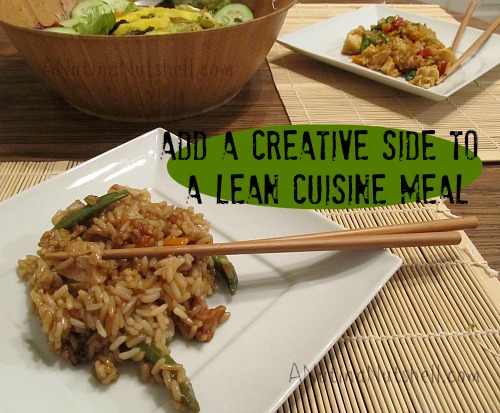 Thai-Inspired Mango Salad
Ingredients
Fresh mixed greens (enough for 2 people)
Green mango (find one that's very firm, not ripe)
Small red pepper (sliced thin or cubed)
1 cup bean sprouts
1 carrot, grated
1/2 cup cucumbers, sliced
1 pkg fresh basil (about 15 leaves)
3 T freshly squeezed lime juice
2 T Worcestershire sauce
1 T balsamic vinegar
1 T brown sugar
2 tsp Thai roasted red chili paste
Directions
1. Toss mango, red pepper, bean sprouts, and carrot in a salad bowl. Set aside.
2. Using a food processor or blender, pulse together basil, lime juice, Worcestershire sauce, balsamic vinegar, brown sugar and roasted red chili paste to make salad dressing. (If using a blender, it's better to finely chop the basil before blending.)
3. Add cucumber slices on top.
The salad has both a sweetness and a kick to it, and it was an easy way to take a quick, convenient meal and elevate it to something just a little more special!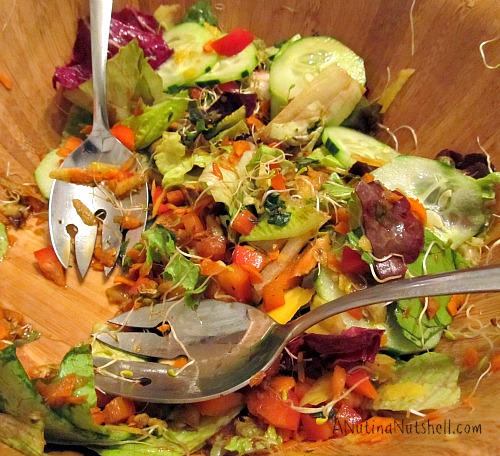 What do you usually have as a side dish with your frozen meals?
I am a member of the Collective Bias® Social Fabric® Community. This shop has been compensated as part of a social shopper insights study for Collective Bias™ and Nestle Lean Cuisine #CBias #SocialFabric. (See my whole shopping trip experience and Black Friday get-out-of-bed-worthy finds here.) All thoughts, opinions, and experiences are my own.