My purse is a mess. I carry way too much crap inside of it, but I need it, I swear! And, I'll only tidy it up if I'm about to travel or someone makes me do it…like Purse Bling.
They dialed 911 and sent a purse ambulance.
Look at what I'm working with here, people. There's no order to my handbag chaos whatsoever.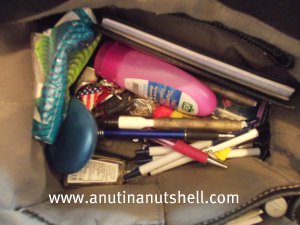 Purse Bling has a ton of purse organizers, but the trick was to find one that could outsmart me. If there's a way to misuse an organizational tool and get messy with it, trust me, I'll find it.
So I chose very, very carefully and I decided to go with the Purse To Go Original organizer, and I picked out a fun giraffe print. (There are tons of cute designs!)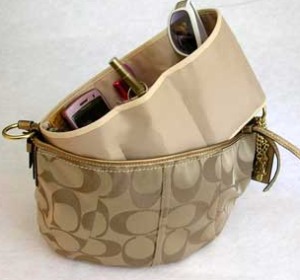 It's soft-sided but still structured, and it has pockets galore all along the interior of the pouch (which you can flip inside out if you want them on the outside).
It's also adjustable in case you move it into a slightly smaller purse. It just folds over and is held securely in place with velcro fasteners.
I have a medium sized purse, so I ordered the size large which is about 13″ long when flat. When it's full of my purse's crap, it actually measures more like 11″, and fits inside my bag to perfection.
There are 7 pockets: three 4.5″ wide pockets, two 4″ wide pockets, and two 2″ wide pockets.
The center portion is where I fit the oversized things like my wallet, checkbook, and keys. Everything else that used to junk up the bottom of my bag now fits inside those magical pockets which go all the way around the organizer.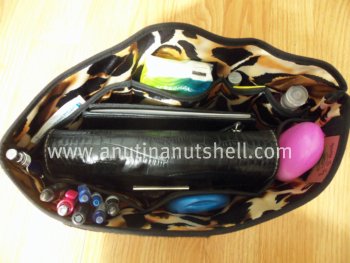 I love how it has a strong framework so that it doesn't collapse when outside of the bag. It's a very well thought out and designed product.
When I had everything loaded into the Purse to Go, I simply lifted it up and easily transferred it into my purse. It fits inside seamlessly, and I absolutely love it!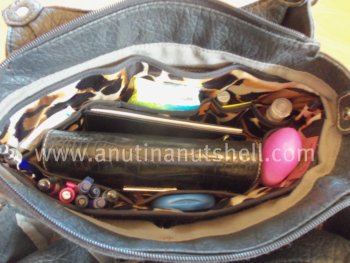 Another thing I love about this organizer is that items are held securely inside the pockets but visible. With just a glance, I can find what I need.
It's like a gentle nudge to my brain reminding me, "Hey lookee here, we're organized now! Don't mess this up." And I don't. I've been using the organizer inside my purse for over a week now and it looks exactly like it did when I began.
I LOVE the Purse to Go!
Buy It! Purse Bling has the Purse to Go in a variety of sizes to fit any handbag. You'll also find other organizer styles, purse hooks, and key finders!
Save an extra 10% on your purchase by using the discount code "nutshell"
Win It! One lucky reader will win any Purse to Go Item of their choice including zip-ups and pockets plus styles (singles, not sets)!
Giveaway Rules
Mandatory Entry: Visit Purse Bling and select the item you'd like to receive if you win, including size and color. (Choose carefully, you're picking out your prize!)
Optional Extra Entries (After you've done the mandatory entry, you may do as many of these extra entries as you would like, but leave a separate comment for each entry.)
Like Purse Bling on facebook (leave username) – 1 entry
Follow @pursebling on twitter (leave username) – 1 entry
Follow me publicly on google friend connect, subscribe by email (leave email used – must activate) – 1 entry each
Like A Nut in a Nutshell on facebook – 1 entry (leave username)
Follow me on twitter @blueviolet and tweet the giveaway- may be done once daily – 1 entry (leave direct url to tweet) copy and paste the following:

Do you have a messy purse? Enter to win a purse organizer from Purse Bling and declutter your handbag! #giveaway http://bit.ly/fRxHi3

Enter any of my active giveaways (listed in right sidebar) – 1 entry each
Digg this post, stumble this post, add this to another site's giveaway linky – 1 entry each (leave links so I can verify)
Add my Mother's Day Event button to your sidebar – 2 entries (leave url so I can come see it)
Add my blog url to your text blog roll, add my button to your blog, blog about the giveaway – 2 entries each (leave link)
You have until 11:59 pm EST on March 31, 2011 to enter. One lucky winner will be randomly selected. I will email the winner and they will have 48 hours to respond to the notification email, or a new winner will be chosen. Entering this giveaway means you are in agreement with this blog's Terms of Use policy. Open to US residents. Good luck!
I received a product sample for review, and one will be provided for the giveaway winner as well. No other compensation has been received. This post contains my own honest and uninfluenced opinions.
WINNER: #228 Shellie & Brutus