You're going to be blown away when you see the animation in The Blue Umbrella, the short animated film appearing before Monsters University in theaters.
It's completely animated, I tell ya, and you won't believe your eyes!
I don't want to give too much away, but a blue umbrella becomes enchanted with a red umbrella and the film follows their love story through the rain.
Director Saschka Unseld erased all previous Pixar mannerisms and styles to create the uniqueness that is The Blue Umbrella, and audiences will fall in love with the sweet and sentimental story and the unbelievable animation.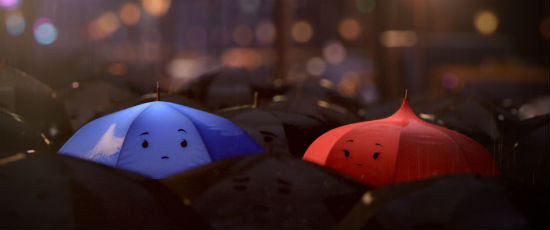 We sat in on an interview with the director at the #MonstersUEvent, but to just quote him in this post wouldn't express what I want to share about the film. I sent a tweet out during the interview, and I think this encapsulates it to an extent.
The Blue Umbrella celebrates the beauty, intimacy and symphony of rain. #monstersuevent
— Liz (@blueviolet) April 9, 2013
You know how some people are just really good at noticing the details in ordinary things? Saschka is one of those people. For instance he notices things like the streaks on the sides of newspaper boxes which probably came from the black rubber of shoes as someone was tying their shoelaces.
Man, I wish I was that creatively observant!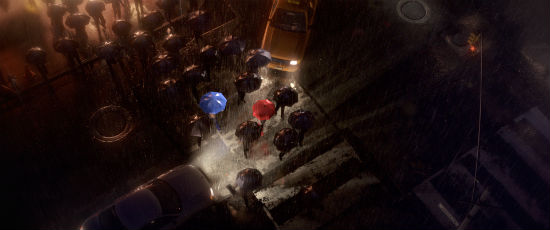 He has a particular love for how beautiful cities look in the rain, and he told us that on a walk through the city one day, he saw an umbrella thrown away on the side of the street and he took a photo of it. He's never forgotten the photo, and just knew that the sad, drenched and broken object had a story he wanted to tell.
And so The Blue Umbrella became that story as well as a celebration of rain.
In his words, "The first drops that fall down on the ground you wouldn't normally even stop for. And for me, it's a beautiful moment, just kind of a rain drop hitting the asphalt, hitting the mailbox, making a different sound."
The Blue Umbrella is extraordinary, I promise you.
In fact, it's so extraordinary that I had to pay it homage with my own blue umbrella at home.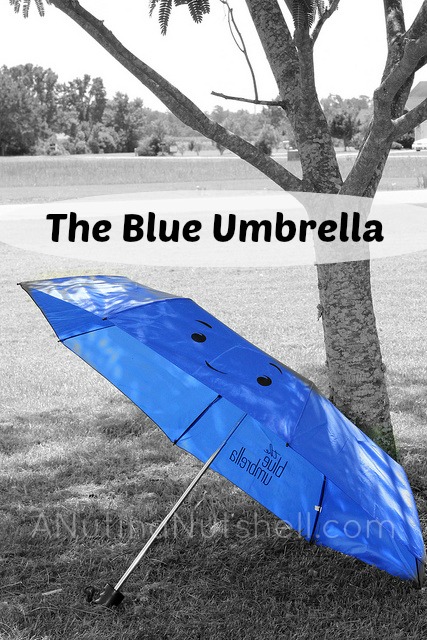 Go see Monsters University and The Blue Umbrella in theaters June 21.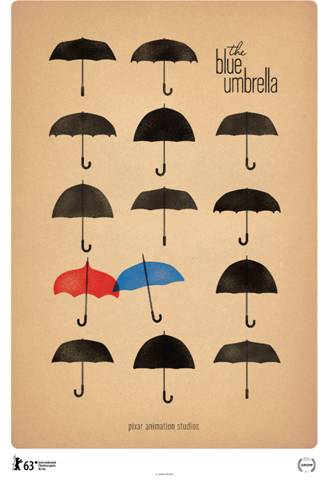 I attended the Pixar press event as a guest of Disney/Pixar. All opinions are my own.