I can't even tell you how many times I've found my son sulking under the kitchen table for no apparent reason.
– "Mommy," my daughter would say helpfully, "he just wants chocolate in his milk today".
– "What? How did you know that?"
– "I just know."
It's like kids have a secret language not discernible to adults. The only way to know what they're really thinking is to have it interpreted and translated by another kid.
Like this one: The Wisest Kid in the Whole World.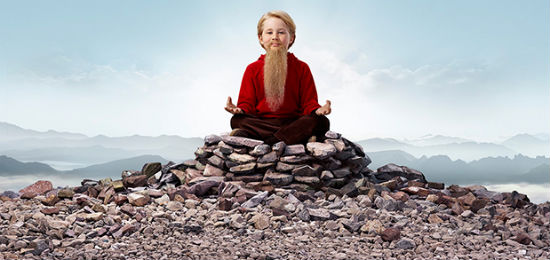 This pint-sized eight-year old guru, discovered by Campbell's Soup Company, resides atop a mountain, and he lives to do two things: meditate on the secrets to kid contentment and share those secrets with parents.
You never know what kind of wisdom he'll give you: funny, cryptic or insightful, but it will definitely make you smile.
Don't you love him?
He knows it all without being a know-it-all.
He offers light-hearted advice about what makes kids happy, especially at mealtime. Research proves kids actually do like to eat soup, and The Wisest Kid reminds parents that it not only tastes good, but is fun to eat.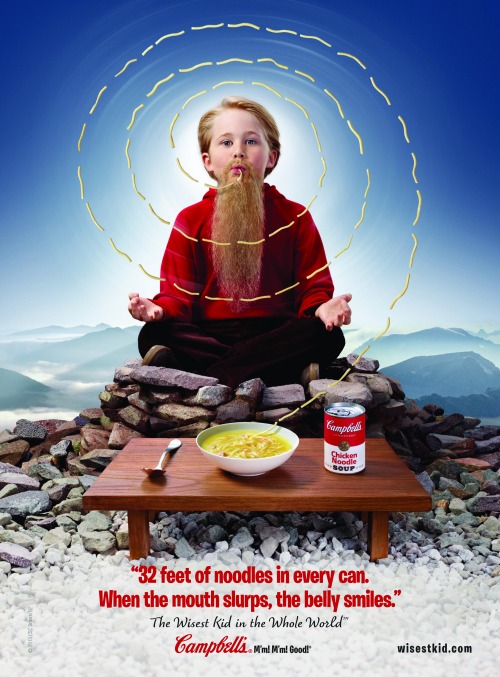 Even though The Wisest Kid lives up on a mountain, he's totally on top of current events and technology, and you can reach him at any time through Twitter, Facebook and other social media.
Whenever you need a kid's perspective, he'll happily give it!
And receive it!
He has a Kid Wisdom widget all set up so that you can share your own wise kids' little nuggets of wisdom with him.
Thank goodness for The Wisest Kid in the Whole World.
What's your favorite kind of Campbell's Soup?
This post is part of my compensated ambassadorship with Campbell's Soup Company. All opinions are my own.