As I was researching things to do in Mayberry NC not long ago, I was practically squealing with excitement that my dream of visiting the town was actually coming true. I've been watching The Andy Griffith Show since childhood, and Mayberry North Carolina was both Andy Griffith's hometown and the inspiration for the show's fictional location.
FYI: The official name of Mayberry NC isn't Mayberry at all; it's Mount Airy, but we Andy Griffith fans will always lovingly refer to it as Mayberry. We can't be stopped.
The area has a small-town warm and welcoming feeling, and locals love to tell stories about the Andy Griffith Show cast. I can see why it's such a popular place to visit and why Mayberry Days are such a big deal. (This year's festival is September 19-24, 2017.) So, here's how I spent my day visiting the city and its attractions.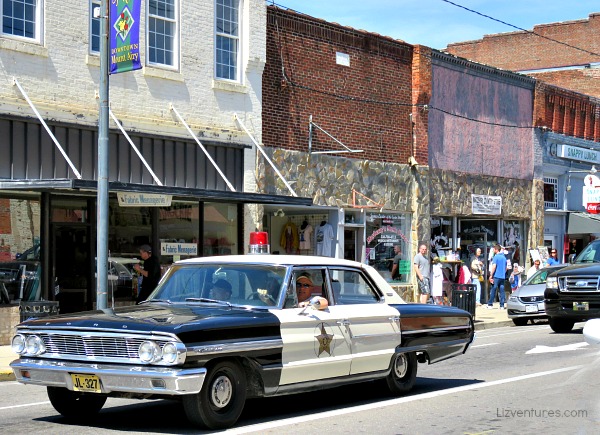 Things to Do in Mayberry NC
Wally's Service Station and Squad Car Tours  –  As the siren sounded, we were put under citizen's arrest by Don "Nuts", our fabulous tour guide and driver, and off we went on what was the highlight of our day – an entertaining squad car tour through Mayberry, NC. Not only did Don regale us with entertaining bits of trivia about Andy Griffith and some of the other cast members, but he shared fascinating tidbits on historic Mount Airy itself.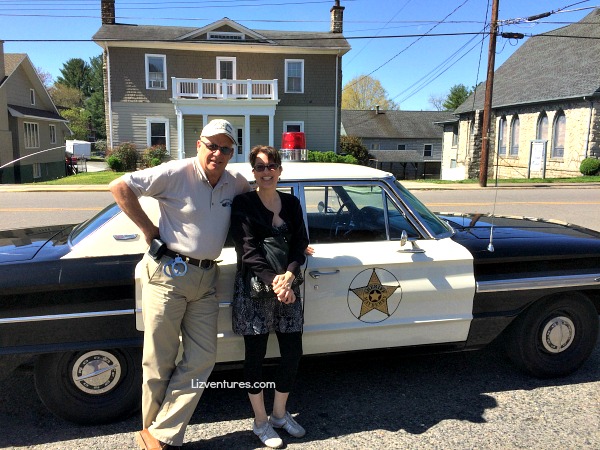 I don't want to give away all the tour secrets, but I have to mention a couple of the things you'll see, like Andy Griffith's actual childhood home. If you really want to immerse yourself in history, you can arrange an overnight stay while you're visiting, but it books up fast so reserve it early.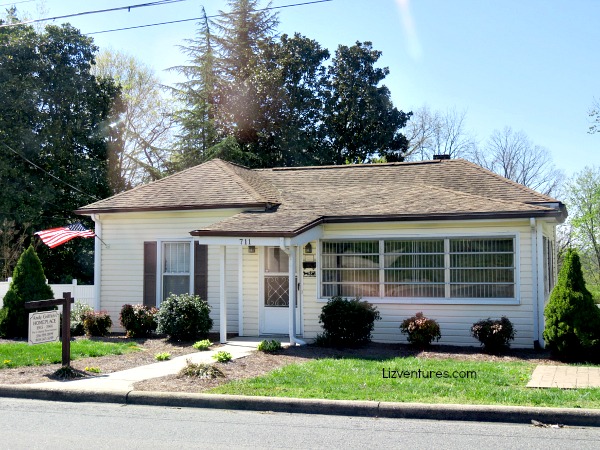 You'll also see the world's largest quarry which earned Mount Airy the nickname, "Granite City," and see examples of how granite was originally placed in roughly cut chunks and later placed in neatly stacked blocks. Personally, I like the rough-hewn look better — lots of character!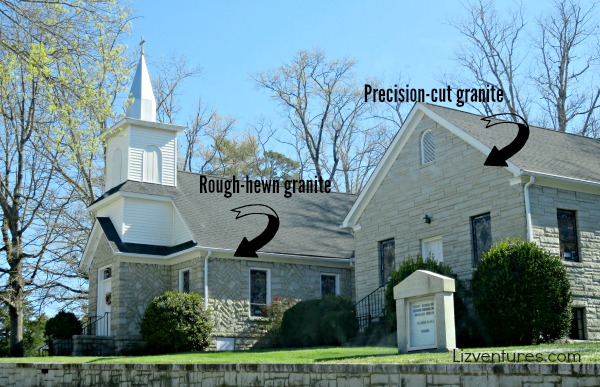 The tour finishes with a ride right down Main Street complete with siren. The squad car is quite an attraction! Because the squad car tour is very popular and will often sell out in the morning for the whole day, I would recommend booking a time slot in advance. (I received a complimentary tour.)
Either before or after your tour, take a look around the service station, both inside and outside. There's lots of memorabilia and plenty of photo opps.
The Snappy Lunch – The only Mount Airy business ever mentioned by name on The Andy Griffith Show, this cozy, old-fashioned diner is well worth a stop, but plan for an early lunch or snack because it closes in the 1 o'clock hour and it fills up fast. I couldn't resist trying their trademark meal – the famous pork chop sandwich, and I'm so glad I did. It was delicious and inexpensive!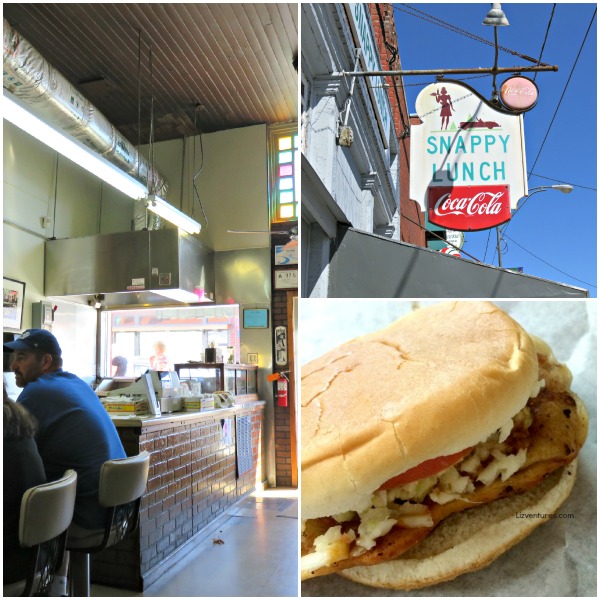 Floyd's City Barbershop – There's no need to get a haircut unless you want to, but fans of the show will want to snap a photo and/or peek your head in. Just because.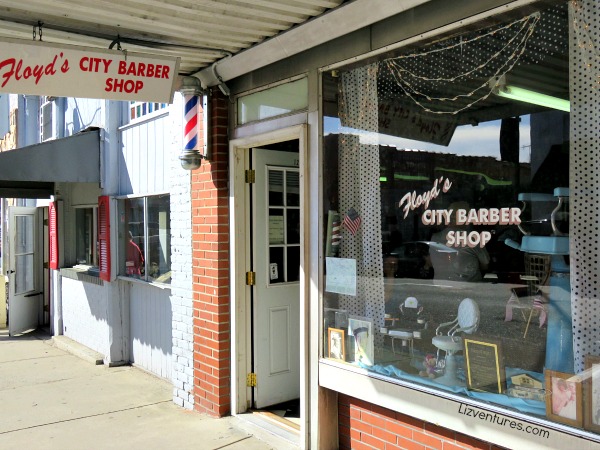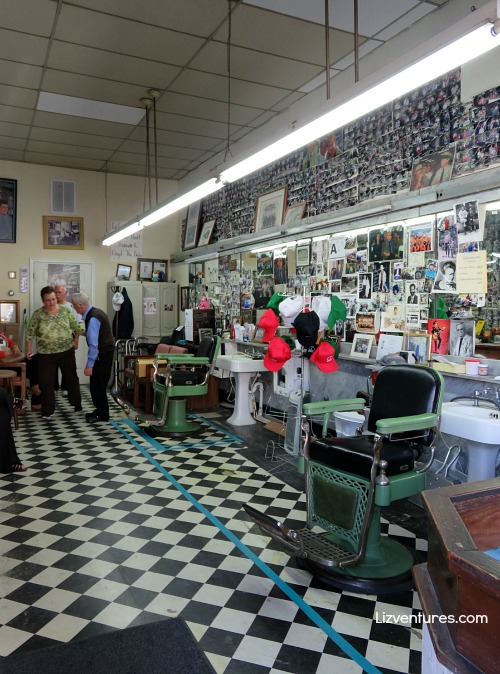 Andy Griffith Museum – It's a small museum, but there's loads of show memorabilia, so you'll want to take your time exploring it. Be sure you take a photo outside by Andy and Opie like I did too!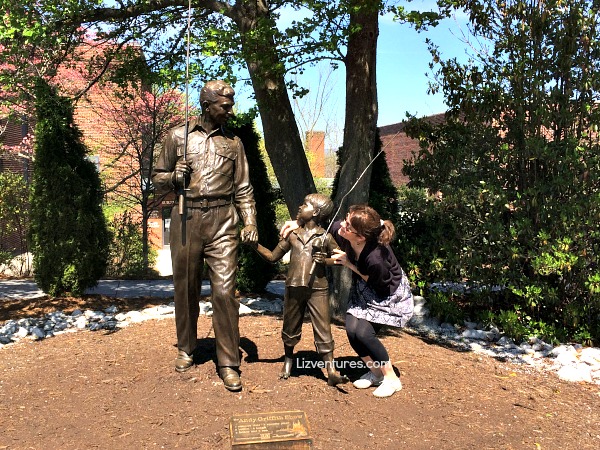 Note: Keep in mind that once you enter the actual museum, there are no photographs allowed. Also guests who pay by credit card have to absorb the merchant fee themselves, so you may want to plan ahead and bring cash.
In addition to the main gallery, don't miss the Siamese Twins Exhibit in the lower level of the Andy Griffith playhouse next door. It's included with your museum admission, and I'm sure you'll find the story of the Bunker twins as fascinating as I did. They lived pretty full lives in spite of being conjoined.
The Historic Earle Theatre – I was lucky enough to be visiting on a Saturday during the WPAQ Merry-Go-Round live radio broadcast. The public is welcome to sit for as long as they want to enjoy the bluegrass, old-time, gospel and country music bands perform for a $6 admission fee. I stayed the entire time, and it was the best money I spent I all day.
Next to the squad car tour, it was far and away my favorite experience. If you love a taste of bluegrass now and then, this is a must. I highly recommend it!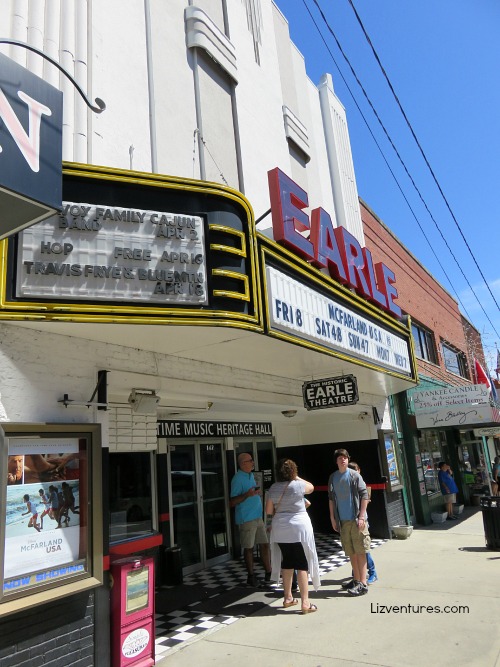 Old North State Winery and Brewery – I love to visit local wineries when I travel, so a stop here was a must. We each sampled a different type of wine flight (mine was dry and semi-dry) and not surprisingly, I ended up choosing a couple of bottles to take home with me. The tasting room/restaurant was beautiful, and if I hadn't filled up on wine sips, I would have stayed for a late lunch or tapas.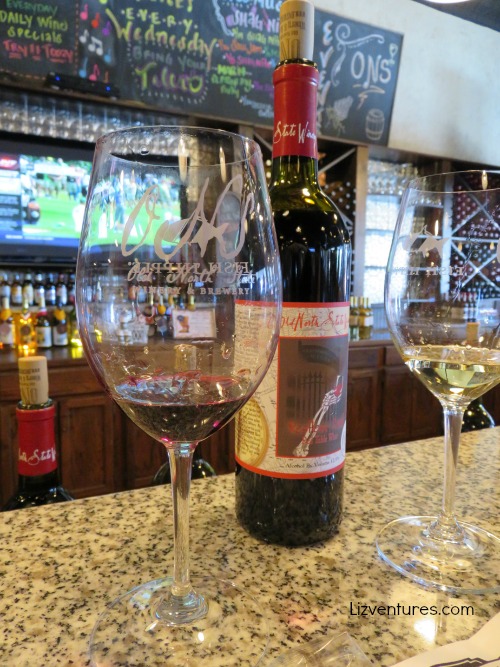 We finished our day strolling through the downtown stores, and since I can't resist an old-fashioned candy shoppe, I visited Opie's Candy Store and came home with bunches of it.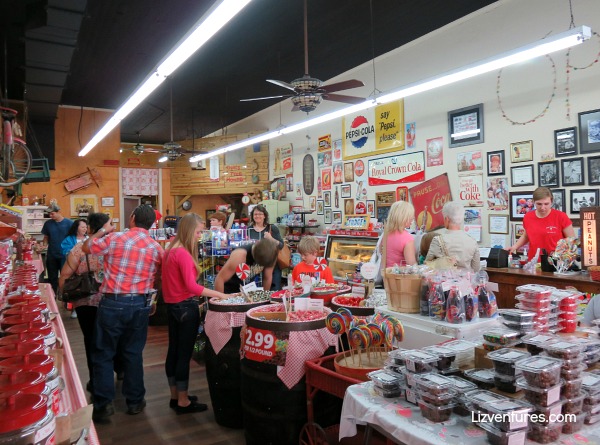 A huge thank you to the staff at VisitMayberry.com for the excellent suggestions and very helpful tips. If you're visiting the area, reach out to them. They're a wonderful resource.
When I left Mount Airy, my visit to the region wasn't done yet! I was off to Pilot Mountain, so keep an eye out for that post along with a delicious restaurant recommendation.