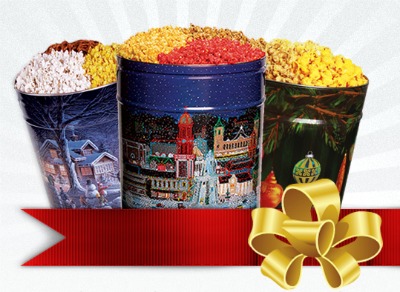 Topsy's Popcorn is one of Kansas City's best kept secrets, but I'm gonna blab about it! You see, I just tried their gourmet popcorn last night, and there's no way I'm keeping quiet about how good it was!
They've been making popcorn since 1929, and they still use their original recipe to give their popcorn that delicious old-fashioned great taste!
I tried the popcorn trio of Caramel/Cheese/Cinnamon and I could smell the cinnamon as soon as I removed the lid. It smelled soooooo good!
Because I was so enchanted with the smell of the cinnamon, I tried that first. I really didn't expect to like it, but it was excellent! I LOVE cinnamon discs, and the popcorn tasted like it was covered with them. So yummy!
Next I tried the caramel corn, and it had a wonderful buttery caramel flavor! Caramel corn is not really my thing, but I have to admit that it tasted pretty darn good. Caramel corn lovers would be in heaven.
And I saved my favorite for last – the cheese popcorn. I knew I would like it, because I'm crazy about cheese popcorn! I'll almost always choose it when given the choice, and this was a buttery, savory, and super tasty treat!
Did I mention that the popcorn came in this super cute, reusable popcorn tin? In fact, Topsy's was the first popcorn company to sell popcorn in circular tins!
This snowflake tin is just one of the designs you can choose from!
Topsy's Popcorn is extremely fresh and fluffy, and it's not full of broken pieces, and I loved that it was filled to the top! It's hand packed, and they fill it to overflowing so that there won't be as much settling.
With four flavors to choose from – butter, cheddar cheese, caramel, and cinnamon – you're likely to find a flavor for everyone on your holiday shopping list!
Extra Discount! From Nov. 22 – Dec. 12, Topsy's is offering a $3-off coupon (per popcorn canister) to my readers! To use the coupon, just go to www.TopsysPopcorn.com and enter Topsy23 at checkout.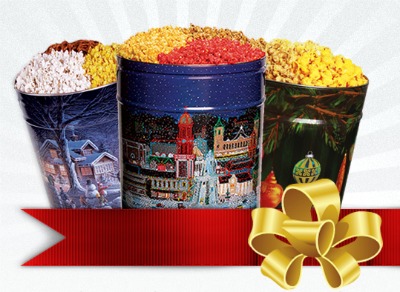 GIVEAWAY!
One lucky winner will enjoy some holiday crunch time with a tin of popcorn containing three flavors (cheese, caramel, and cinnamon)! (After you enter here, head over to Thanks, Mail Carrier. She's giving one away too!)
(Rafflecopter entry form below is in javascript so it may take a few seconds to load.)

I received a popcorn tin for review, but the opinions expressed in this post are entirely my own.