Whether you're packing for a day trip, a weekend getaway or a long family vacation, be sure to bring along plenty of travel friendly snacks to stave off hunger. Nothing ruins a day faster than a cranky traveler with a hungry tummy.
Snacks for traveling are essential!
So I thought I'd take what I've learned over the years, and put together  a list of no-fuss, money-saving and travel-friendly snacks. It's always nice to have them listed together for convenience when preparing and packing for a getaway. Most of these are kid-friendly, because I have a daughter who should have been born with a "Do not let this child ever get hungry in her lifetime" warning sticker.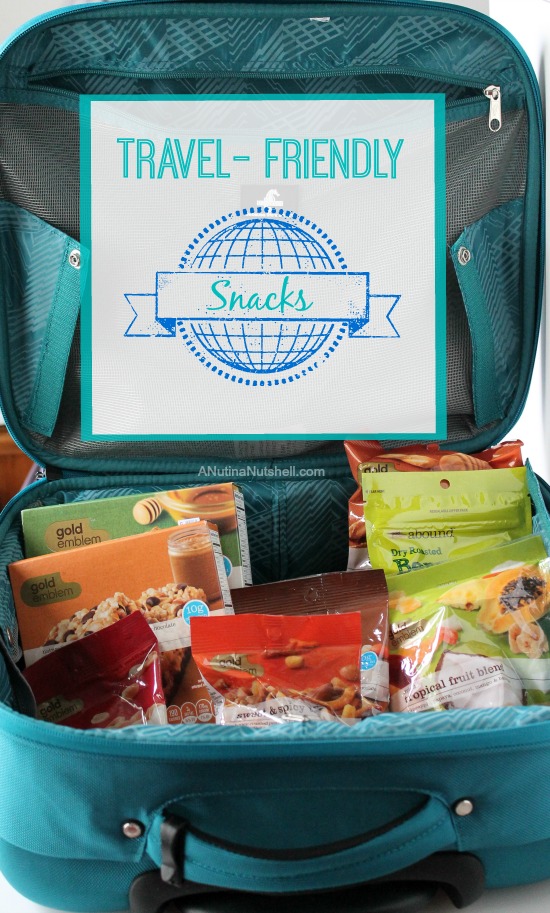 Many of my travel-friendly snacks are available in the CVS Gold Emblem line of food and snacks. There are over 250 products in the line, and they're available at over 7,600 CVS/pharmacy locations across the U.S. as well as online at CVS.com. They're not only convenient, but affordable.
No Fuss Travel-Friendly Snacks
1. Nuts
A package of nuts satisfies those salty and crunchy cravings, and offers a good combination of protein, fiber and healthy fats. I love roasted almonds, but go with your personal favorite: walnuts, pistachios, cashews, peanuts, etc. . A handful of nuts can do wonders for hunger.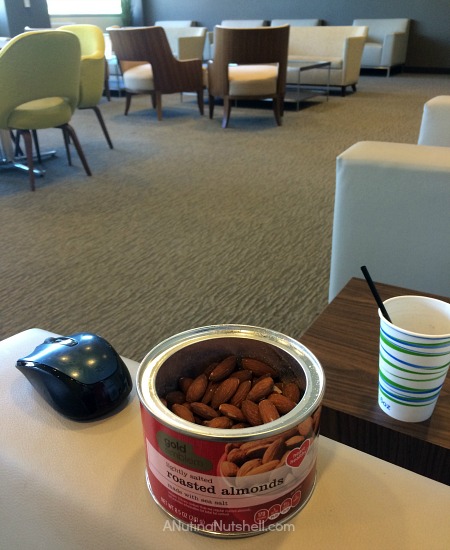 (These saved me during a looooooooong layover a couple of weeks ago.)
2. Veggies
Pre-washed and cut veggies like baby carrots, celery sticks, broccoli florets and grape tomatoes are super travel-friendly.  Love dip? Bring along some hummus or peanut butter for a punch of protein.
3. Fruit
Fresh grapes are the perfect mess-free and nutritious travel snack, and kids and adults both love them.
Toss a few single-serve applesauce containers and spoons into your bag for another tasty snack. I  love using applesauce as a dip for salty snacks like pretzels, chips or popcorn cakes. Call me crazy until you try it!
I also really like dried fruit and dried fruit blends, especially cranberries.

4. Trail Mix
When packing for the whole family, I like to make my own trail mix at home by combining nuts, seeds, granola and some dried fruit. If I just need a small amount, it's easier and more affordable to pick up a couple packaged trail mixes. Gold Emblem has some pretty tasty combinations.
5. Granola Bars
Whether you bring along the entire box, or just toss a few in your carry-on or handbag, granola bars can quickly satisfy hunger! There are great protein and fiber-rich options in yummy flavors at CVS.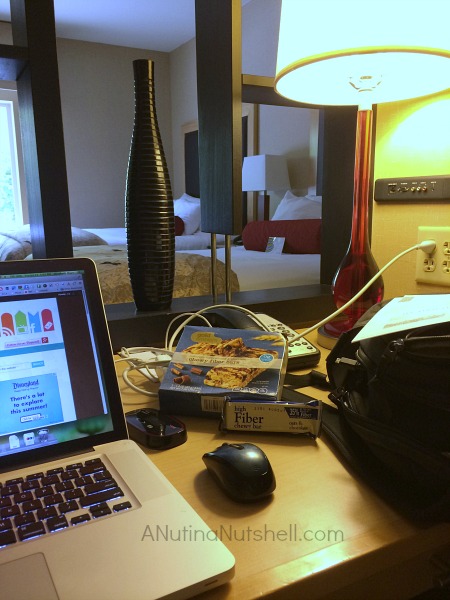 I packed a box of these in my suitcase for a trip recently.It saved me money on breakfast!
6. Cheese
Most cheese is best kept cool,  but hard cheeses like aged cheddar, asiago, parmesan, gruyere, provolone and swiss do surprisingly well without refrigeration for the day.
7. Pretzels and Crackers
I can't make a list of travel-friendly snacks without including pretzels, because I never travel without them. I'm obsessed with pretzels, it's true. I like the tiny twists and my boyfriend likes the peanut butter-filled pretzel nuggets.
A few other tips to remember:
Be sure to stay hydrated. Water is the perfect refreshment, but since TSA regulations only allow for 4 ounces of liquid if you're flying, either bring a water bottle that can be refilled or purchase water, juice or soda once you're through security.
When choosing travel snacks, remember that protein helps ease hunger, and snacks that take a long time to eat and are crunchy help stave off boredom. There are tons of Gold Emblem snack options that travel well, and hold up nicely through all the jostling that comes along with being on-the-go.
Single-serve sizes are perfect for handbags and carry-ons, and larger containers can be tucked into luggage and enjoyed later. I always make sure I have snacks for both now and later.
Check out CVS.com for a wide selection of affordable travel-friendly snack options.

Also, be sure to join the free ExtraCare program which rewards shoppers with ExtraSavings (coupons, deals, instant discounts) and ExtraBucks Rewards (2% back on almost all CVS purchases–paid out quarterly and immediate rewards paid out at time of purchase).
What are your favorite travel-friendly snacks?
I'm proud to partner with CVS/pharmacy for this Gold Emblem Summertime Snacking campaign. All opinions and suggestions are my own.