Universal CityWalk Orlando is a Florida vacation must-see. It's so much more than a gateway to the Universal Orlando Resort theme parks (all park visitors pass through it).  It's really an Orlando destination unto itself.
The 30-acre entertainment and dining complex is loaded with restaurants, entertainment, shopping and nightlife. You could easily spend a whole day there and never be bored, and if you're visiting the theme parks, it's a great way to take a break from the crowds and grab a relaxing bite to eat. Also, Universal CityWalk Orlando remains open until 2 am so you can enjoy plenty of nightlife after the parks close.
If you're staying in one of the on-site hotels (see my post on Loews Royal Pacific Resort), it's a short water taxi ride or stroll away.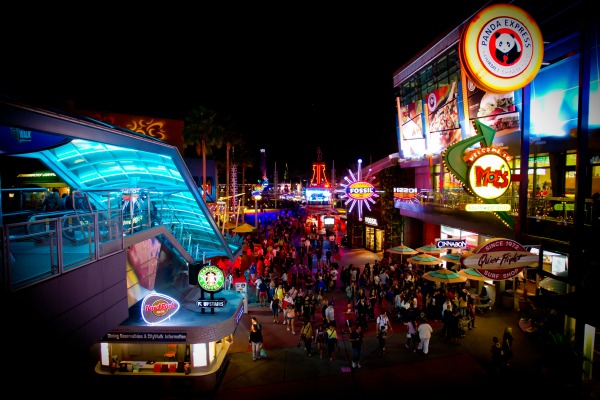 Restaurants
I've been to Universal CityWalk Orlando so many times now that I've eaten in almost every restaurant there. My goal is to conquer them all! During my recent media trip, I ticked another one off the list and enjoyed a phenomenal meal at The Cowfish – a newly opened sushi burger bar. Yep, I said sushi burger bar — they serve both, and they do it very, very well!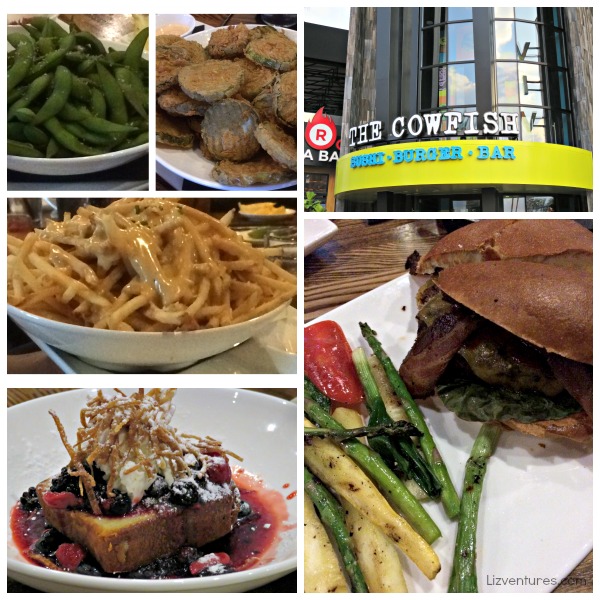 The Cowfish serves loads of sushi and gourmet burger options and even a fusion of the two called "Burgushi".  Our group started by sharing some appetizers — fried pickles, Parmesan truffle fries and edamame, and I think we got close to cleaning those plates!
I ordered the Texas Longhorn Burger and they cooked it exactly as I asked which very rarely happens for me, so it was a big dang deal. It was an extraordinarily delicious half-pound beef burger with cheddar cheese, onion strings, jalapeño bacon, tangy BBQ sauce, lettuce and tomato on a brioche bun with a choice of sides. Since we had fries as an appetizer, I opted for grilled vegetables.
And then dessert happened. Oh how it happened. We sampled key lime and mandarin cheesecake, lemon berry shortcake, cinnamon sugar wontons, cookies and milk, ice cream and a "yummy roll" which was pastry cream, gummy strips rolled with sponge cake and sweet almond wrap. Save room for dessert; it's worth it! Oh, and it's worth mentioning that the wait staff was superb.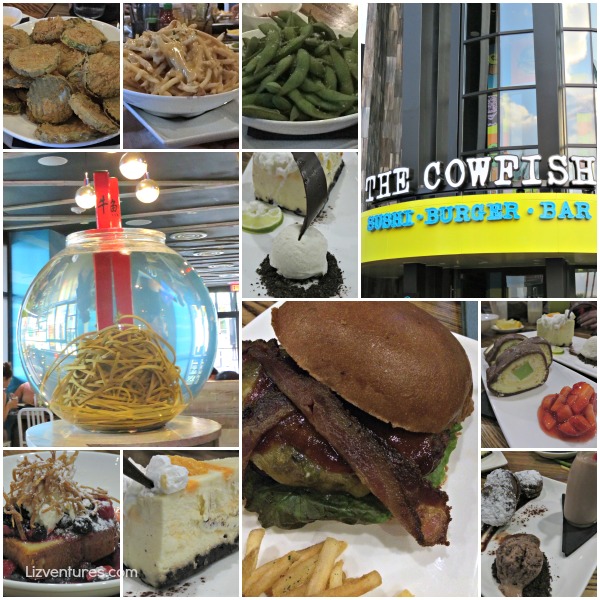 Another Universal CityWalk Orlando restaurant I tried for the first time was Antojitos, an authentic and lively Mexican eatery. Since we were eating really late that night, I just had an appetizer as a meal. We also had fresh guacamole prepared tableside, and enjoyed a live band on stage as we ate dinner. It was a really fun atmosphere, and the food was incredible.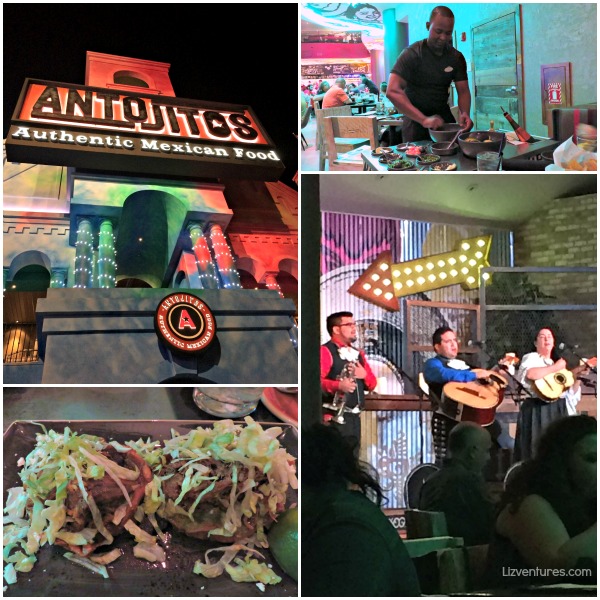 Click here to check out all the other Universal CityWalk Orlando restaurants.
Entertainment
Hollywood Drive-in Golf – Mini-golf is an activity the entire family can enjoy, and the 36 holes on this course capture the fun and silliness of 1950's horror movies.
Movies – There are 20 screens at this AMC movie theater, including IMAX, so whether it's a rainy day or just an evening off your feet, going to a movie is a great option.
Blue Man Group – If you get the chance to go see Blue Man Group at Universal Florida, go! I saw it last fall with my daughter, and we had the best time. I can't even tell you how much we laughed!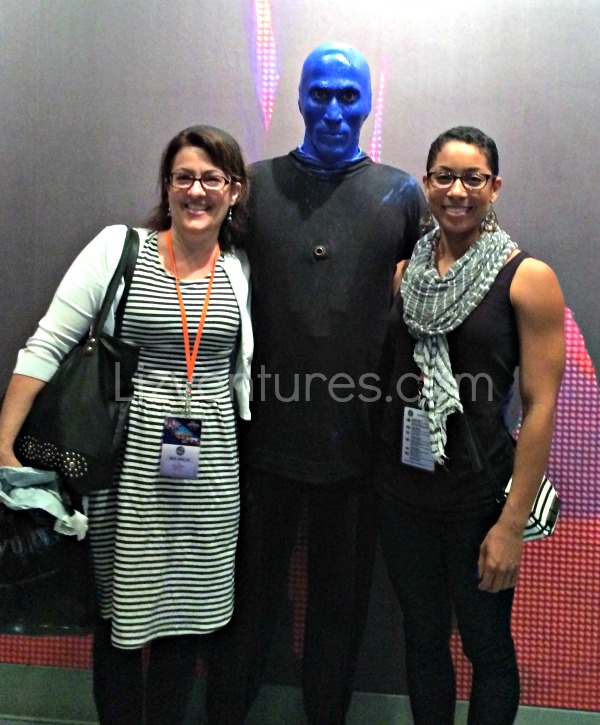 Nightlife
Whether you're looking for live music, dancing, karaoke, or a dueling piano bar, you'll find it within Universal CityWalk Orlando. About half of our blogger group were regulars at Rising Star while we were there. It's karaoke, but it's karaoke with a live band and that's the first time I've ever heard of that. Fun!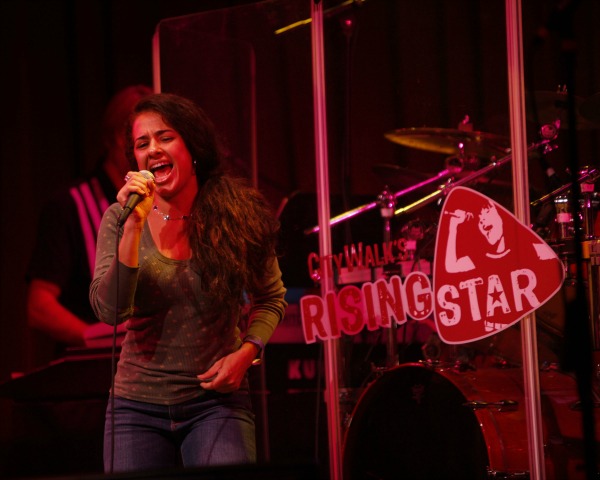 My favorite place to go is Pat O'Brien's for the dueling pianos, great food and delicious Hurricane cocktails. They take song requests, but even if you don't ask, I guarantee you'll hear songs you love. It's so much fun!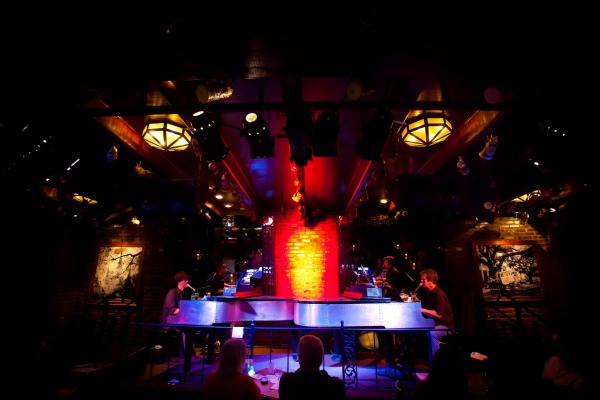 Adults age 21 and over also have the option of buying a "Party Pass" ($11.99) to club hop without paying individual cover charges for the whole evening.  You can't beat that, since there are a good half dozen venues to visit.
Shopping
With more than 60 places to shop, including a Universal Studios store, you're not likely to go home empty-handed. You can buy traditional souvenirs, apparel, accessories, jewelry, shoes, pretty much anything you could want.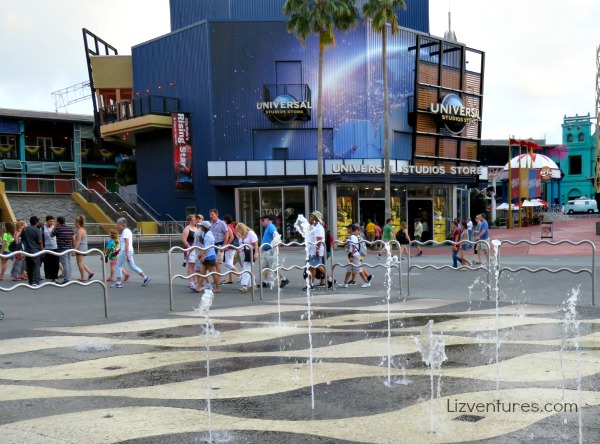 For more information on Universal CityWalk Orlando, visit the Universal Orlando Resort website.