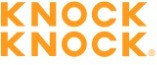 Knock Knock products are so much fun! The colors are bright and peppy, the graphics are big, bold, and playful, and the products themselves are made with a terrific sense of humor.
They recently sent me some of their new products that would make great Valentines Day gift ideas, and I couldn't resist sharing them with you.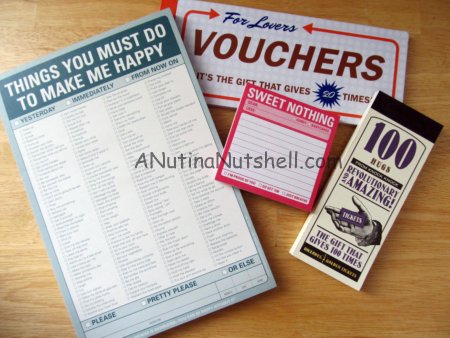 The Sweet Nothings sticky notes ($3) can be used for syrupy little love notes. Or whatever.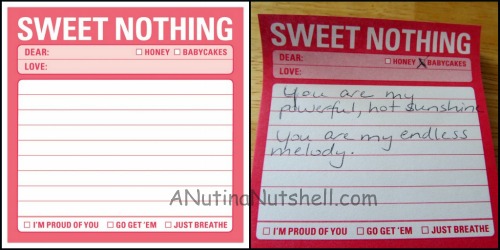 Look at this cute little book of 100 Small Favors ($5). It has 97 small favor tickets, and 3 golden tickets good for bigger favors. What lady wouldn't like a little servitude out of her man now and then?
The reverse could be said as well…. I guess.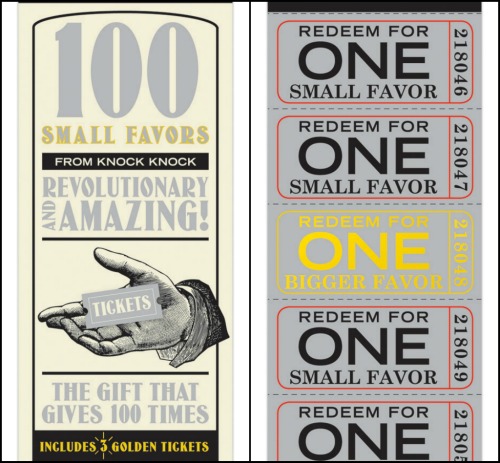 And the Vouchers for Lovers ($6.50) make perfect Valentines gift ideas for boyfriends, husbands…whomever! And they have the servitude theme (to which I heartily give my full support.)
A foot massage, errand of choice, weekend getaway…yes please, and then some. There are 20 vouchers for goodies like that!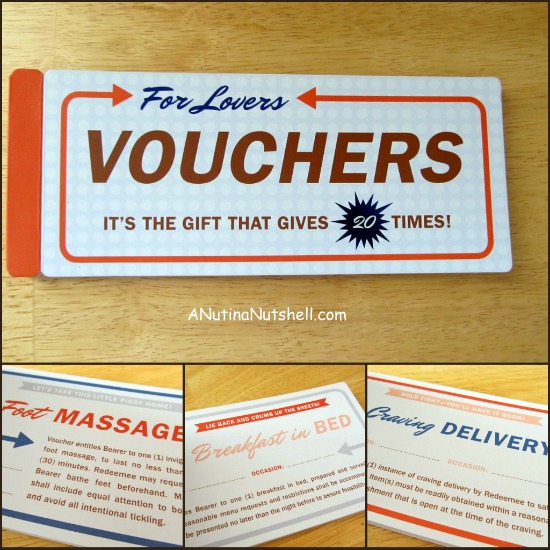 Now when I first saw this Things You Must Do To Make Me Happy ($6.50) pad, I thought…how often am I really going to use that? But then I started looking at the items on the list, and I knew without a doubt I'd have need for this over and over and over.
-Chew in silence?
-Apologize?
-Get it yourself?
Oh yeah, there's plenty of call for plenty-o-this!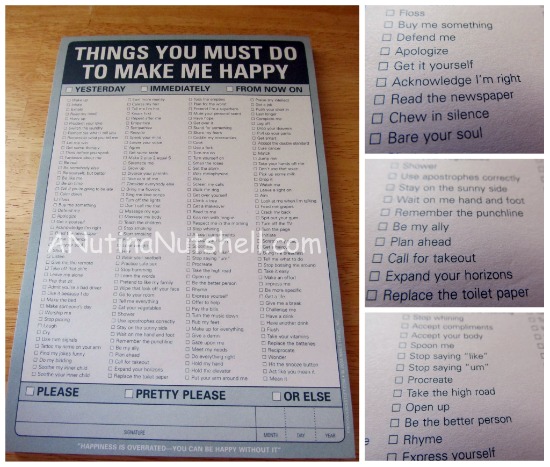 I just love the playfulness of Knock Knock's fun and functional organizational products, and I know you will too!
Connect with Knock Knock: Website Facebook Twitter
GIVEAWAY!
One lucky winner will receive a fun selection of Knock Knock products perfect for Valentine's Day and beyond! Prize pack includes Things You Must Do To Make Me Happy List, 100 Small Favors Tickets, For Lovers Vouchers, and Sweet Nothing Notes. (Doughnuts not included – those are all mine!)