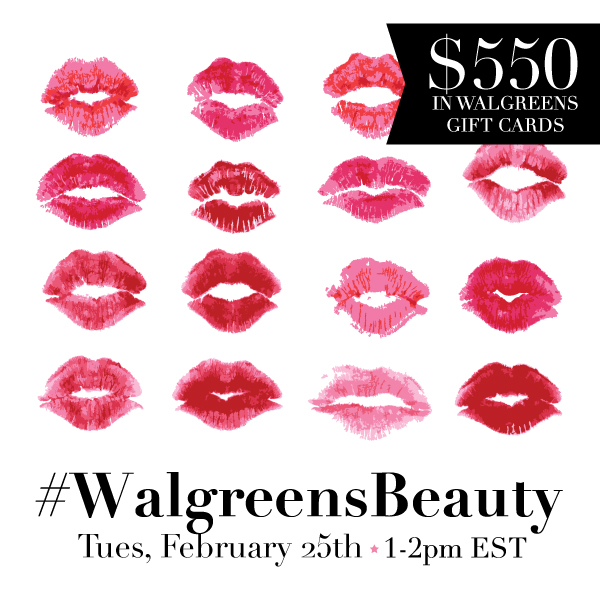 Do you love to keep up with the latest beauty trends and new products? Walgreens knows how to be beautiful and has everything you need to update your look and enhance your natural beauty.  With a great selection of makeup, haircare, skincare and oral whitening products priced for great savings, beauty has never been easier!
I know with the new year, I'm ready for a new look. I hope you'll join me at the #WalgreensBeauty chat as we talk about new beauty products and share makeup tips!
Join me at the #WalgreensBeauty Twitter Party on SoFabChats!
DATE: Tuesday, February 25th
TIME: 1-2pm ET
PRIZES: 5 – $100 Walgreens Gift Cards
EARLY BIRD: 1 – $50 Walgreens Gift Card
RSVP: #WalgreensBeauty Party Page
LOCATION: SoFabChats Tweet Grid
HOST: @blueviolet
CO HOSTS: @dentistmel, @athriftydiva, and @Lizz_Porter
SPECIAL GUEST: @Walgreens
PARTY RULES: #WalgreensBeauty Official Rules
TWEET TO SHARE:
Let your friends know about this fun party by sending out a tweet:
➜  Click Here to Share a Tweet about the party!
Love Twitter Parties? New to Twitter Parties and want to learn more?
Stay in the loop with the SoFabChats Twitter Party Schedule, RSVP for individual Twitter parties, find SoFabChats Twitter Party Tips and sign up for SoFabChats Twitter Party email alerts!
RSVP today and learn how you can enter to win our special Early Bird gift card prize!