I'll be honest with you. When I saw the trailers for War Horse, I wasn't interested. It looked to be one of those sweeping epic films, and those very rarely interest me.
But now that I've seen it, I feel like the trailers are deceiving, and quite frankly, undersell the movie, because it was excellent.
Yes, it does play as an epic in some respects, partly because of the sweeping European countryside settings and partly because of the intentionally old-fashioned adaptation of the movie by director, Steven Spielberg, but it works beautifully, and I loved every bit of it.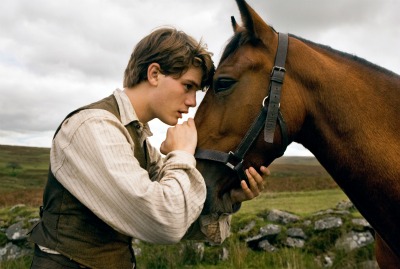 The story centers around Albert Narracott (Jeremy Irvine) and his beloved horse, Joey. When Albert's father sells the horse to a WWI soldier, Albert promises Joey that he will find him and they'll be together again.
As the film moves along, we see Joey going from owner to owner, touching lives along the way, and we experience much of it through the horse's quiet perspective.
Albert eventually enlists in the military with the hope of finding Joey. (I know that in theory his enlistment sounds super cheesy, but just go with it, cuz there's an awesome scene …. well, you'll see.)
Set in WWI, there's no escaping the horror and brutality of the war itself, although I thought the violence was less visual and more understood, so I personally found the gore factor to be at a minimum. The film sends a subtle but definitive anti-war message throughout, and is brilliantly displayed in the No Man's Land sequence, a scene you'll not soon forget.
Although much of the film is appropriate for all ages, I would not take younger children to see it because the scenes involving war may be too much for them. It's rated PG-13 for a reason, but older children and adults will find it a wonderfully poignant and heartwarming story. I loved it!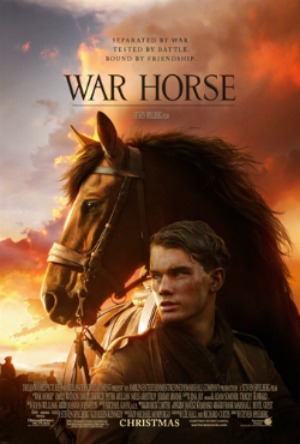 Here's an exclusive War Horse movie clip !

War Horse opens in theaters Christmas Day!