Sugar-free candy that tastes like regular candy!
Werther's Original Sugar Free candy is every bit as buttery, rich and delicious as the original candy that inspired it, and that simply doesn't happen very often with any sugar free candy (or food for that matter).
I kid you not when I tell you that other than the slightly smaller size, I can't taste the difference. At all.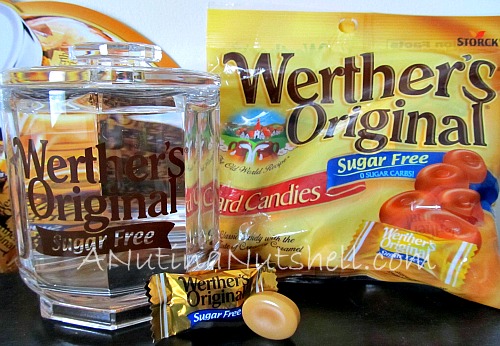 Classic Werther's Originals have 70 calories, 1.5 grams of fat, and 10 grams of sugar for three pieces of candy.

Werther's Original Sugar Free candies have 40 calories, 1 to 1.5 grams of fat (based on the flavor variety), and absolutely NO SUGAR for five pieces of candy.
100% caramel satisfaction in an 8-calorie piece of sugar free candy — I call that a win!
These delightful candies also come in several other flavor combinations like Caramel Apple, Caramel Coffee and Caramel Cinnamon.
I haven't tried the Caramel Coffee because I'm not a coffee person, but I did try the other two, and the Caramel Cinnamon won out for me. I wouldn't have minded a little more cinnamon kick but the combination of the two totally worked! Delicious!
I liked the Caramel Apple pretty well, but the flavor seemed a little artificial to me, so I liked the cinnamon better.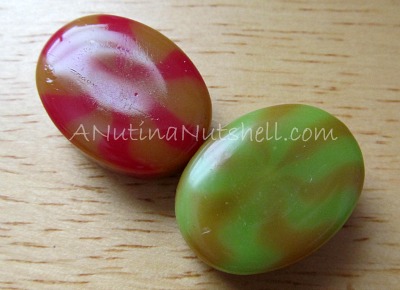 The original flavor with its smooth and creamy buttered caramel fabulousness will always be my favorite though! It's crazy good, craaaaaaaaaaaaaaaaazy good.
And that leads me to my next point and gentle warning: Too much of a good thing is never a good thing.
I saw these words of wisdom printed right on the back of the bag, but I saw them too late. I had enjoyed entirely too many of the candies in one sitting, and I paid the price dearly. Dearly.
Don't do what I did. Pace yourselves.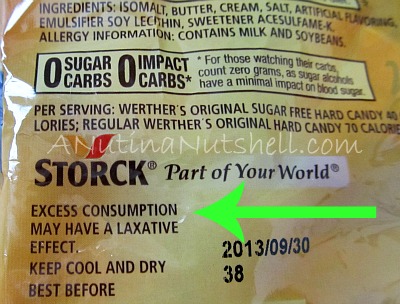 I've tried oodles of light, diet, and sugar free candy before, and none of them were as tasty and satisfying as regular candy, but I can honestly say that the Werther's Original Sugar Free Candy hit the mark.
It's nice to have a low calorie and sugar-free way to satisfy my sweet tooth without sacrificing taste! YUM!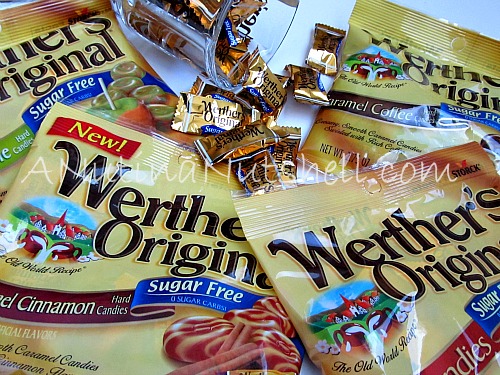 Which of the four Werther's Original Sugar Free candy flavors would you like to try first: Original, Caramel Apple, Caramel Coffee or Caramel Cinnamon?
I was selected for this opportunity as a member of Clever Girls Collective, and the content and opinions expressed here are all my own.