In 1911, the first electric wringer was introduced. I'm sure ladies thought this was better than beating clothing on rocks, but holy tamales!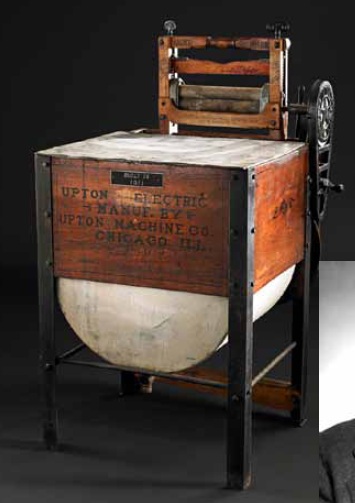 Twenty years later, they looked a little more citified, less backwoods. Wouldn't you agree?
And by 1939, this Whirlpool wringer washer was downright glam!
The year 1947 brought about this "Jeep" washer, which looks more like a water heater to me. But whatev.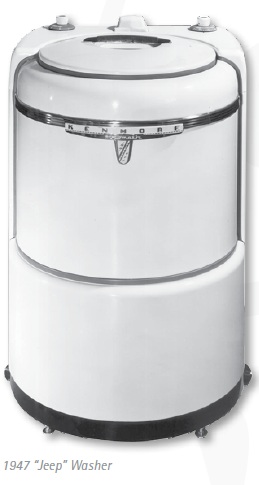 And then finally, Whirlpool introduced its first laundry pair, and by golly, that basic design has stuck with us for good.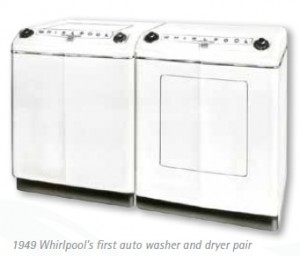 Although I gotta say that my Whirlpool Duet is much sleeker. I love my laundry twins!
It's been 4 months now that I've been using my Whirlpool Duet washer and dryer, and I have to share my overall favorite features:

Precision dispense: The detergent reservoir holds enough detergent for up to 36 loads and dispenses it on its own. Love, love, love that!

Cycle options: Not only do you have multiple cycle options (my favorites are Hand Wash, Quick Wash, Jeans, and Delicates), but within each cycle, you can make adjustments for things like water temperature, soil level, spin speed and even add an extra rinse. The ability to customize everything has helped me get my clothes SO much cleaner!
Fan Fresh: No more musty smells if I forget a load is in the washer. The Fan Fresh cycle periodically tumbles the load and has a fan that circulates air for 16 hours. In fact, it will actually end up drying the clothes if they're left in there long enough.
Wrinkle Shield: My clothes are completely crammed into my closets so when I pull them out, they're always wrinkled. I can pop them in the dryer on the wrinkle shield cycle, and it quickly removes the wrinkles without me having to iron.
End of cycle tone: It's a silly thing, but the chime that signifies the end of a cycle is such a happy little sound. I don't even get mad when it's time to change loads anymore.
Overall Thoughts
I was a little pessimistic about the set in the beginning. I thought that a lot of the bells and whistles would be overkill, but I was wrong. The numerous options and features included with the machines are there to enhance the care and cleaning of your clothes, and they do. I am very impressed and happy with this Whirlpool Duet washer and dryer set.
I wrote this review while participating in a test-drive campaign by Mom Central Consulting on behalf of Whirlpool and received a complimentary Whirlpool Duet washer and dryer to facilitate my review.