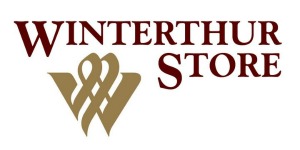 Have you ever shopped at the Winterthur Store? Everything in the store, from the home to the garden, has been inspired by the elegant estate of Henry du Ponts, and I love it because it's like early America meets modern.
The last time I browsed through their accessories and gifts, I saw a beautiful outdoor thermometer with an elegant French-inspired design. I had to have it!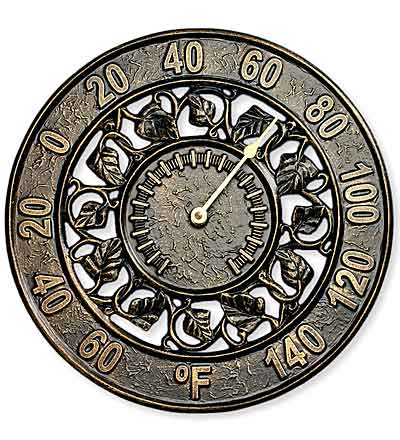 I've always had the cheapo red and white bulb thermometer mounted on my outside window. It works, but there certainly isn't any charm in the design, so this was my chance to get classy! 😉
I absolutely love the rich bronzy-gold finish and the beautiful detailing of the ivy on the cut-out center. Love, love, love.
All I had to do before I could mount it was to calibrate the temperature. There's a dial on the back which controls the hand on the face of the thermometer, so I rotated it until it matched my room temperature reading.
Once it was calibrated, I mounted it outside in a spot that I could easily see from my kitchen window, and with its 12″ diameter and bas-relief numerals, it's super easy to read.
When I first put it outside, it still reflected the warm temperature of my house…
but after it sat out there for a little while, it picked up the outdoor temperature….brrrrr!
My only mistake was in forgetting that the spot where it's hanging receives direct sunlight for a little while each day, so the temperature goes up during that time. It's only about an hour though, so I'm not worried about it.
The thermometer is made of rust-free aluminum and the housing is weatherproof, so I don't have to worry a bit about it being outdoors, and when I move, I'm taking this with me to my next home!

Buy It! The Ivy Silhouette Thermometer sells for $59.99 at Winterthur Store and would make a wonderful holiday gift!
GIVEAWAY!
One lucky winner will receive a $50 Winterthur Store Gift Certificate! (After you enter here, head over to Thanks, Mail Carrier. She's giving away a $50 Problem Solvers Gift Certificate!)
(Rafflecopter entry form below is in javascript so it may take a few seconds to load.)

Winterthur Store sent me the above item for review, and all opinions expressed in this post about the product are mine alone.