Print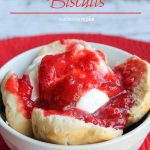 Strawberry Shortcake Biscuits
Nothing says summer more than strawberry shortcake, and if you make it with biscuits, you may never make it any other way again!
Hull 1 quart of strawberries and slice them into pieces. Put in a bowl. Sprinkle sugar liberally over the top of the strawberries and then smoosh, smoosh, smoosh. You want them to become nice and juicy.

Melt 1 stick of butter or margarine in a bowl.

Split open the biscuits and line a bowl with the halves. Usually I use 3 biscuits per serving, but these were very large, so it only took two to fill the bowl. Repeat with remaining biscuits in more bowls.

Spoon the melted butter or margarine very generously over the biscuits.

Now spoon your strawberry mixture over the top of the buttered biscuits and top with a dollop (or more) of whipped cream.