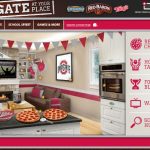 Print
Parmesan Chicken Bites
Bite-sized boneless chicken bites, cooked to a crisp and topped with Parmesan and melted cheese
Cut chicken tenders into 1 inch pieces.

Mix egg and milk in a bowl.

Put breadcrumbs in separate bowl.

Dip chicken pieces in egg mix, then into bread crumbs.

Drop into deep fryer or a pan with hot oil on stove top.(If using stove, use a high-walled pot and make sure oil is at least three inches deep.

Place half of the chicken tenders into oil one at a time. Cook until golden brown and cooked through center. Scoop out with a slotted spoon and set aside on paper towel covered plate. Repeat with remaining chicken.

Arrange chicken on a microwave-safe dish. Preheat marinara sauce, then place a spoonful on each nugget. Sprinkle mozzarella cheese on top of sauce. Microwave on high until cheese melts (about 20-30 seconds).

Sprinkle with grated Parmesan cheese. Insert a toothpick into each bite. Arrange on a serving platter and enjoy!