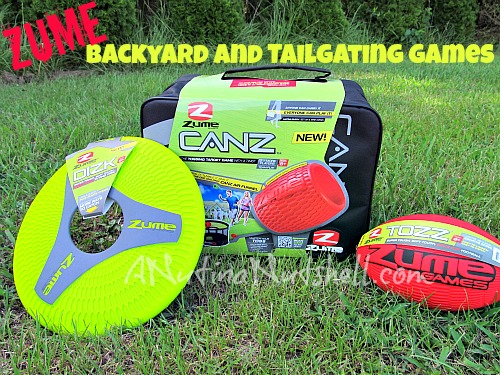 You probably wouldn't catch me joining the kids in a pick-up game of baseball, basketball, or tackle football, but you'd definitely find me playing (and probably suggesting) toss and catch games.
That's why I like Zume Games! They make fun and creative portable outdoor games that everyone will love. Play them in the backyard, at tailgate parties, picnics, the beach, the campground…you name it!
TOZZ
The TOZZ football is designed for coolness. It has a soft-touch grippable finish and a sweet aerodynamic air tunnel at the center which allows you to put a great spiral on every throw.
So let's pretend that's what's happening in the picture below, and that you're not really seeing the wimpy send-off I gave it. Mmmmkay?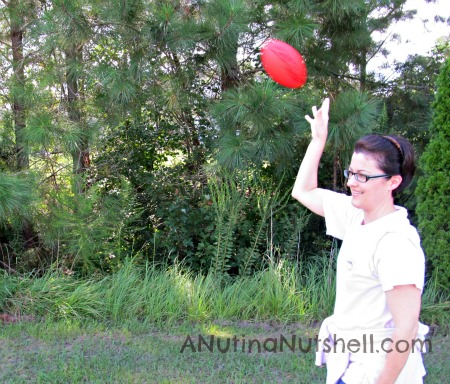 In my defense, I'm recovering from some serious bursitis, and I just can't rip a football through the air. (Let's also pretend that I was previously capable of doing that.) 😉
The easy to launch and catch TOZZ is great for ages 6+ and sells for $17.99 at Amazon
.
DIZK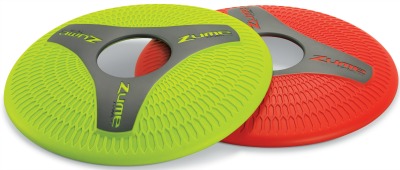 The DIZK has one of the coolest designs I've seen in a flying disc. It has the same soft-touch grippable surface as the TOZZ ball, but it has a flexible, floppy feel to it.
It's actually fairly heavy so I wasn't sure how well it would fly, and my threat of "Look alive" should have been directed to the grass eight inches in front of my foot.
Bursitis, remember?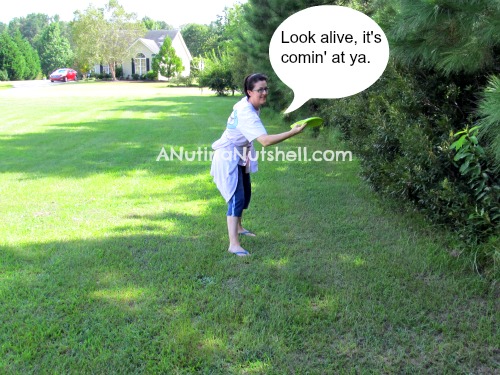 I did a little better at catching though. My friend was able to put quite a bit of air under it and send it sailing a good distance.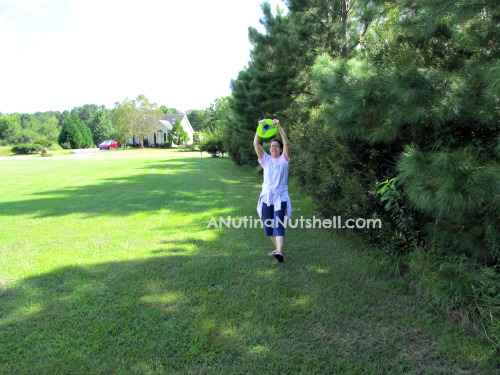 DIZK is great for ages 6+ and is available for $14.99 at Amazon
.
CANZ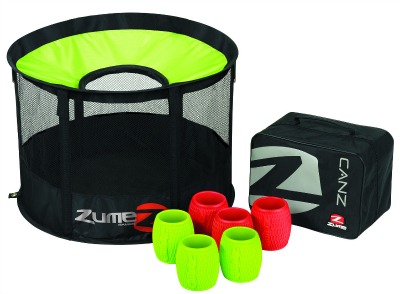 In the game of CANZ, players do their best to throw the air funnel tossers into the top opening of the target goal.
Watch my focus and learn from me.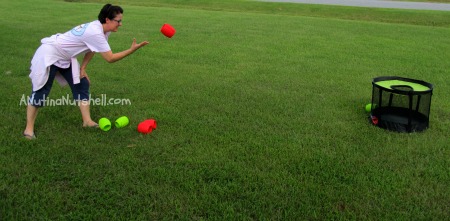 Watch me as I learn that focus doesn't help, and that just tossing them in the general direction of the target often works out better.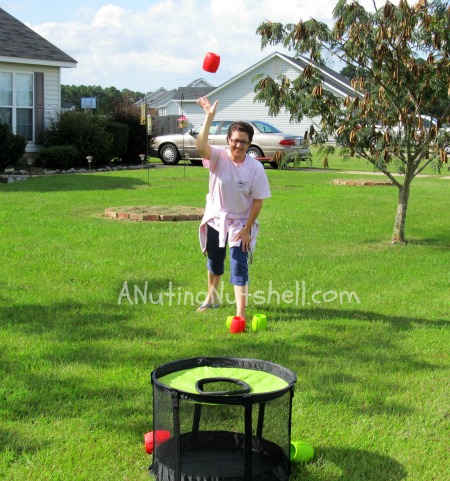 See that? It's so going in. Maybe.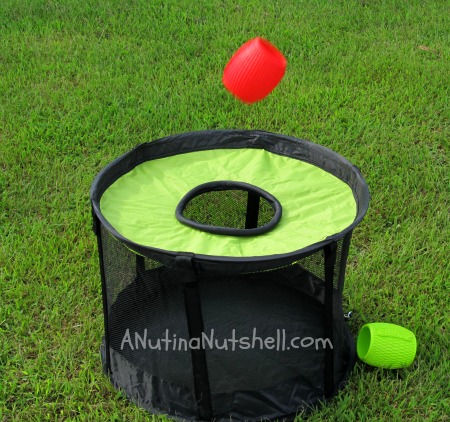 Players get 3 points for the CANZ that actually make it inside, and 1 point for those which rest on top.
Or heck, just make up your own rules.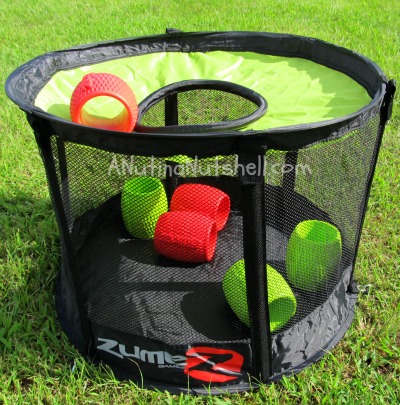 Note to my kids: When you get here for Christmas, we'll be shooting for this target while bouncing on the trampoline. Get ready.
The CANZ game with target and six air funnel tossers comes stowed in a storage case which makes it ultra portable and easy to clean up.  If playing outside, the target goal can be anchored into the ground (anchors included).
The game is suitable for ages 8+ (although with rule modifications, I see no reason why younger kids couldn't play). Normally priced at $89, I found it for $69 at Amazon
.
All three games are also available directly from Zume-Games and at independent retailers nationwide.
GIVEAWAY!
One lucky reader will win the game of Canz!
Product samples were provided for review, but the opinions of those products are my own.
RULES: Giveaway ends 11:59 pm ET, September 30, 2012. No purchase necessary. Open to legal residents of the fifty (50) United States and District of Columbia, Eighteen (18) years of age or older. Void where prohibited by law. One lucky winner will be chosen using random.org. One entry per household and IP address. The number of eligible entries received determines the odds of winning. Cheating will not be tolerated, and entries will be verified for accuracy. I will email the winner and they will have 48 hours to respond to the notification email, or a new winner will be chosen. Entering this giveaway means you are in agreement with this blog's Terms of Use policy.