Badminton is my favorite backyard game, but all these years I've been just freestyle-lobbing birdies back and forth without a net. Now I have a real freestanding badminton set from Zume Games and I'm so excited! It literally takes minutes to set up a badminton court — no tools necessary, and the whole set is portable and self-storing.
It comes with four rackets and two high visibility shuttlecocks aka birdies, and is the most genius badminton set I've ever seen!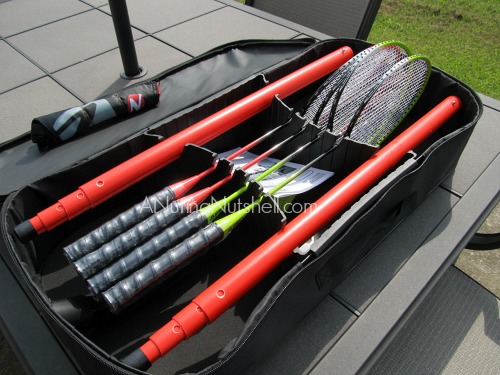 The bag itself acts as a weighted base to which telescoping poles are attached and extended.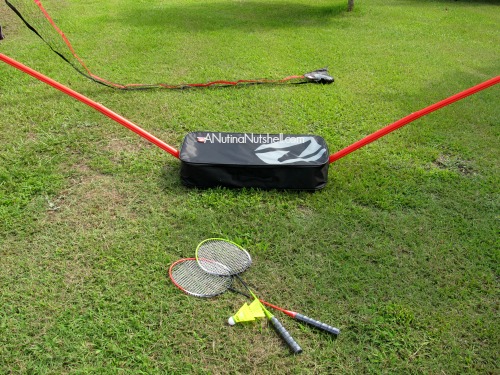 The nylon net easily slides over the top of the PVC support poles and bam, you're in birdie business. There are no stakes to pound in the ground. I repeat: no stakes needed!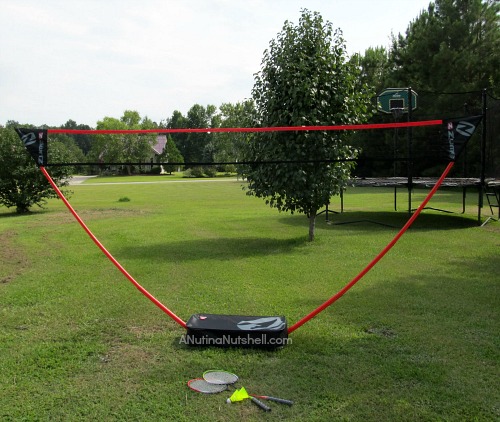 As long as you're on a flat surface, you can play anywhere. Set up a badminton court in the backyard, on the driveway, at a park or at the beach.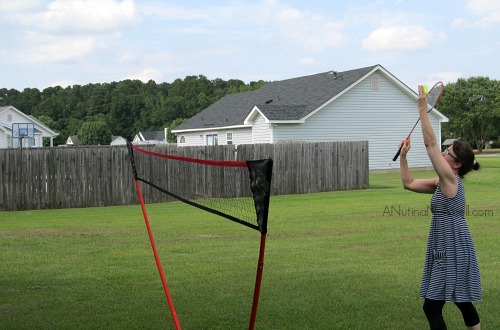 Taking it apart is just as easy too. Roll the net up and store all the pieces in the zippered nylon carrying case for next time.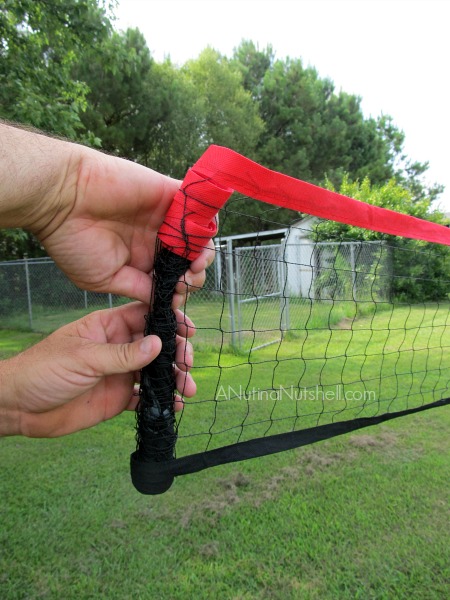 Now this is the part where I was going to include a video of us playing in my backyard, but when I looked at it and realized how pathetic my badminton skills are and how many times I dove to the ground looking like an idiot, I thought you'd be best served by seeing a video of people who can actually play.
Since the worst of summer's heat and humidity are over, it's the perfect time to pop up a badminton court and play! Soak up the remaining bits of summer and bring it along on your beach weekends or even to your tailgating picnics.
I can't even express to you how much I love the ZUME GAMES Badminton Set
. The super fast set-up and take-down blows my mind, and I love that it's all stored in a zippered carry case. You'd better believe I'll be toting this along to get-togethers with family and friends, but it's awesome for just me and the boyfriend or me and the kids at home too!
The ZUME GAMES Badminton Set
is currently available at Amazon, a steal of a deal in my opinion. If you're looking for a great holiday gift idea that keeps on giving year after year, this is it!