I absolutely adore the flavor of almonds in baking, so when I saw this Almond Heart Cookies recipe, I fell in love with it.
It's a recipe created by Food Network Chef Alex Guarnaschelli, a regular judge on Chopped, who has teamed up with Fisher Nuts to create some simple recipes and tips for cooking with nuts this holiday season.
Almond Heart Cookies
Ingredients
2 ½ sticks unsalted butter, room temperature
¾ cup granulated sugar
2 ⅓ cups all-purpose flour, plus additional flour for rolling the cookies
½ cup Fisher® Slivered Almonds, ground
½ teaspoon ground cinnamon
¼ teaspoon ground nutmeg
1 cup seedless raspberry jam
Powdered sugar (optional)
2 heart-shaped (or round) cookie cutters: one about 1 ½-inches and one about ¾-inch (I have a Linzer cut-out cookie set so I used that.)
Directions
1. Place almonds in a food processor and pulse until the almonds are ground. Set aside.
2. In the bowl of an electric mixer fitted with a paddle attachment, whip the butter until smooth. Add the sugar and continue mixing until light and fluffy, 3 to 5 minutes, scraping sides of bowl from time to time to make sure butter and sugar are fully integrated and fluffy.
3. In another bowl, combine and mix the flour, almonds, cinnamon, and nutmeg.
4. Because this dough has a good amount of butter, it needs "resting" time and needs to be rolled fairly quickly. Lay 3 large pieces of wax paper in a single layer on a flat surface. Sprinkle each one with a light coating of flour. Remove the bowl from the mixer and, using a rubber spatula, blend the flour mixture in with the butter. When the ingredients are fully integrated, place ⅓ of the batter on each of the pieces of wax paper. Coat dough with a light layer of flour, and top with another piece of wax paper of the same length to make 3 batter "sandwiches." Place two of them in the refrigerator and work with one at a time.
5. Preheat the oven to 350°F.
6. Roll the first batch into as neat a shape as possible. What matters most is avoiding creases or cracks and getting it to about ⅛-inch in thickness. When the first is rolled, refrigerate it and repeat the same process for the other two.
7. Remove the first rolled sheet from the refrigerator and cut as many 1 ½-inch hearts (or rounds) as you can. Reserve the scraps in the refrigerator. Arrange them neatly in a single layer on a greased baking sheet. Repeat with the other two sheets, reserving any scraps.
Cut a heart, with the smaller cutter, out of the center of half of all the cookies to create a heart outline. Roll the scraps in between two of the pieces of wax paper and cut additional hearts, if desired. Waste dough? No such thing. Simply reroll all the scraps and refrigerate for a few minutes before cutting into additional cookies.
*Note: I made this process a lot easier by using a Linzer cookie cutter set.
8. Bake until lightly brown, 12 to 15 minutes. Remove from oven and allow to cool slightly before transferring to a flat surface.
9. Put the raspberry jam in a bowl and whisk to remove large lumps. Spoon about ¼ to ½ teaspoon raspberry jam on each bottom and place a "top" heart on each.
10. Dust with powdered sugar, if desired. (I used a sifter and held my finger over the heart cutout to prevent powdered sugar from completely covering the pretty red center.)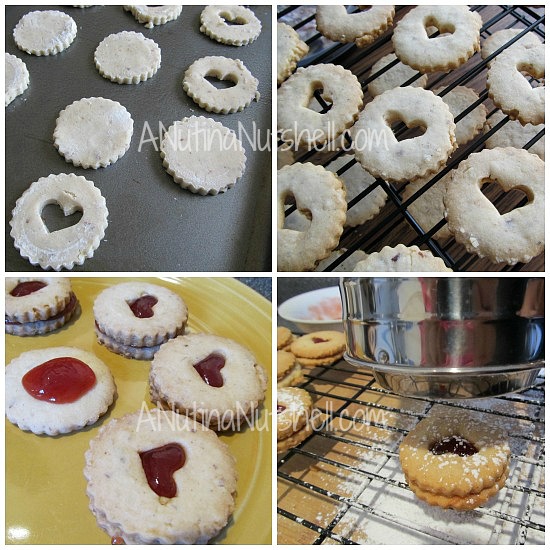 It's a more complicated cookie recipe than I normally make, but oh my word are the results ever worth it. Absolutely scrumptious!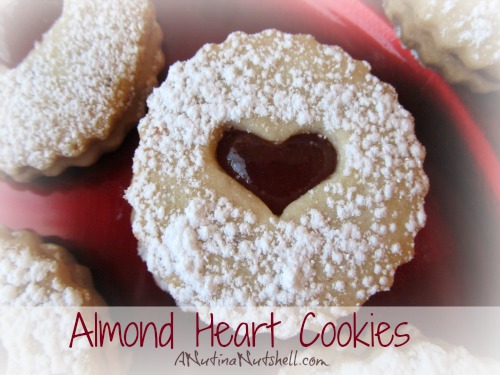 I am working with Fisher to share Chef Alex Guarnaschelli's recipes and recreate one of her recipes using Fisher Nuts and tools they provided. However, my opinions are entirely my own and I have not been paid to publish positive comments.