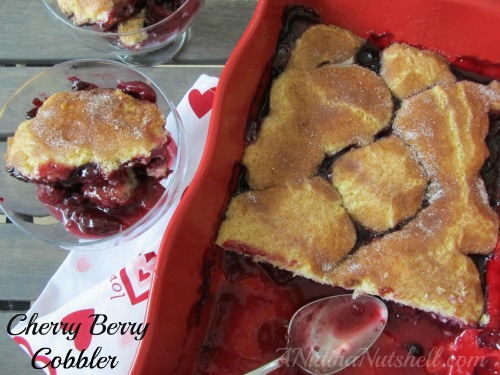 I dreamed up this unbelievably delicious cherry cobbler recipe when I saw some handpicked Northwest cherries last weekend.
Besides they're from Washington State, and everyone knows how flavorful those cherries are.
Cherry Blueberry Cobbler
Ingredients
1/2 cup sugar
2 T cornstarch
1/2 tsp cinnamon
3/4 cup water
Approximately 50 sweet cherries, pitted and sliced in half
2/3 cup blueberries
1 T butter
In large saucepan, combine sugar, cornstarch and cinnamon. Stir in water until smooth. Add cherries and butter. Bring to boil over medium heat.
Add blueberries, then cook and stir for 2 minutes or until thickened.
Pour into lightly greased baking dish.
Ingredients for Topping
1 egg
1 cup flour
1 tsp baking powder
1/2 tsp salt
1/2 tsp vanilla
2 T melted butter
1/4 cup 2% milk
1/2 cup sugar
Cinnamon sugar (1/4 cup sugar + 1 tsp cinnamon)
Preheat oven to 350 degrees. In medium bowl beat egg, 1/2 cup sugar and milk. In a separate bowl combine flour, baking powder and salt. Stir into egg mixture. Add vanilla and melted butter.
Drop by spoonfuls over cherry mixture in baking dish. Sprinkle top with cinnamon sugar. Bake 30 minutes.
Enjoy! It's absolutely scrumptious!