To celebrate National Pasta Day last week, I tried a little something different with my stuffed shells by using Classico Creamy Spinach and Parmesan Sauce. It was so delicious that I have to share the recipe!
Classic Stuffed Shells
(recipe from Classico)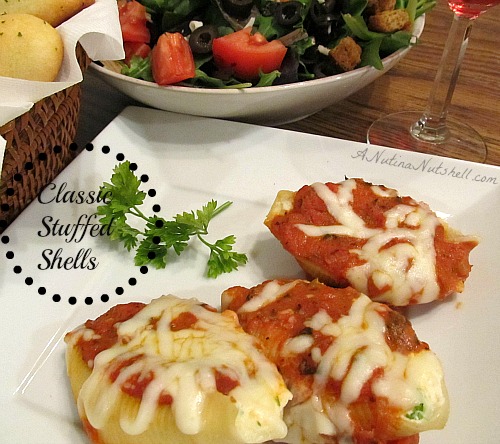 Ingredients
1 jar (24 oz) Classico Creamy Spinach and Parmesan Seasonal Sauce
1/2 pound sweet or hot italian-style bulk sausage
18 jumbo shell pasta
2/3 cup chopped onion
1 garlic clove, minced
2 cups shredded Mozzarella cheese, divided
15 ounces ricotta cheese
1/2 cup freshly grated Parmesan cheese
1 egg, lightly beaten
1 Tbsp chopped fresh flat-leaf parsley
Directions
1. Preheat oven 350°F. Cook pasta al dente according to package instructions and drain.
2. Meanwhile, in a large skillet over medium high heat, brown sausage, onions and garlic for 5 to 6 minutes, or until cooked through, stirring until small sausage crumbles form. Add Pasta Sauce and stir until well mixed. Spoon half of sauce mixture evenly into bottom of 13×9 baking dish.
3. In a medium bowl, mix together 1 cup of mozzarella cheese, ricotta cheese, Parmesan cheese and egg. Stuff each shell with about 2 Tbsp. of cheese mixture. Arrange stuffed shells in baking dish and spoon remaining sauce mixture evenly on top.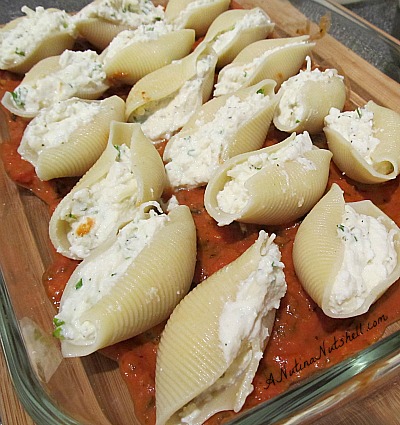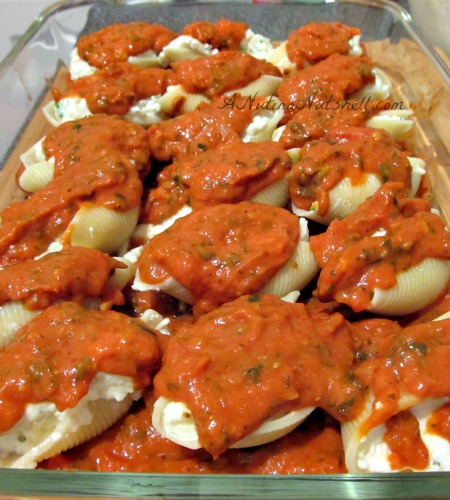 4. Cover tightly with aluminum foil and bake for 30 minutes. Remove foil and sprinkle remaining 1 cup of mozzarella cheese and parsley on top. Bake for additional 5 minutes, or until cheese is melted. Allow to rest for 5 minutes before serving.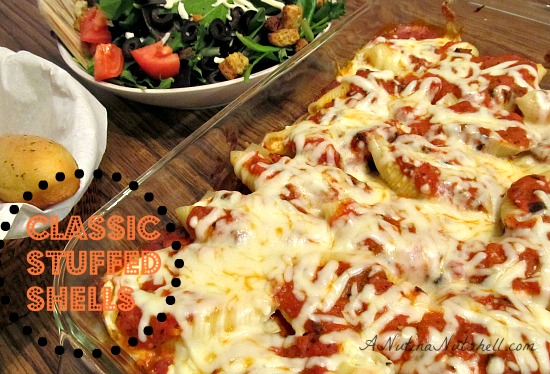 Note: I omitted the sausage when I made it, but I left it in the recipe in case you're a sausage lover. 
Pairing the Right Sauce with the Right Pasta (Match the consistency of the sauce to the texture of the pasta.)

Long thin noodles (spaghetti, angel hair) – smooth sauce
Wider noodles (fettuccine) – slightly chunkier sauce or creamy sauce (like Alfredo)
Molded or tubular shaped (shells, rigatoni) – very chunky sauce
Slightly smaller molded and tubular shape (fusilli, penne) – lightly chunky tomato sauce