Thanks to Danskin Now for sponsoring this post! All opinions my own.
A couple of weeks ago, I went to Disney World!!!!!!!!!!! (Yes, all of those were necessary.) In this post I'm going to tell you what to wear to Disney. Or, more accurately, what *I* wore there and why I think it was right to do so. Ha.
But first, here is a photo of me playing with my mom's cat.
So my mom and I went to Orlando the other week for a blogging conference. The host hotel was one of the Disney resorts right on the monorail line that takes you directly to the parks for free, so we took advantage and visited three different parks while we were there.
I hate packing for trips, so when I got this month's shipment of Danskin Now duds from Walmart, I just threw them all in my suitcase without even removing the tags. I don't regret my haste one bit because it made it so simple to decide what to wear to the parks.
If you've ever been to a humid place like Florida you know that it can be blazing hot out, but the A/C is always on full blast indoors. You'll be sorry if you forget to bring a cover-up with you! The weather was pretty mild, but there was a consistent cool breeze, so I wanted to wear layers.
I ended up wearing the same thing at each park: tank with mesh racerback detail + capris + sneakers + zip-up. I had the same tank top in three different colors, and y'all know my collection of athletic capris is on fleek, so it wasn't like I was wearing the exact same thing every day.
The awesome thing about pieces from Danskin Now is that you can wear them casually (like to Disney) or for workouts, like I did at the resort gym. I'm proud of myself – I got four workouts in while I was there!
This month I also picked out a couple of pairs of leggings that I didn't take to Disney with me (but did wear to the gym a lot). They're really cute (obviously) but they are also SO PERFECT for the gym. For me it's really important that my leggings have a high waistband so I don't have to worry about showing too much, and the waistband on these is da bomb.
Real talk: If you buy one thing from this post, make it these leggings.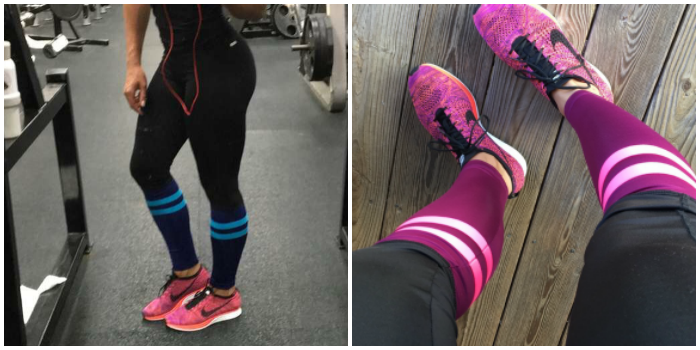 I used to always wear casual, non-athletic clothes to theme parks. Ya know, denim shorts and tank tops kind of deal. But it turns out once you go Danskin Now, you never go back. If I had gone on any water rides (I didn't), I wouldn't have had to worry about soggy denim for the rest of the day. With my stretchy pants and breezy tops, I could freely do as many excited-kid-in-a-candy-store dances as I wanted.
Overall, Danskin Now is definitely the answer to "what to wear to Disney". 10/10 would repeat!